Dates Traveled: September 2009
This past break illustrated how spoiled Rhona and I are when it comes to the time we have to travel. I only had a 5-week break rather than my standard 6. I finished work on August 26, flew from Hammerfest, Norway, on the 27th, and arrived in Kashgar, China on the 28th. I flew back to work from Dushanbe, Tajikistan, on September 29, so we had almost exactly a month to travel. And it wasn't nearly enough. We felt rushed…forced to make decisions on what we would see and do…pressured…always under a deadline. And yes, we realize our month was at least twice as long as most Americans get in a year. It's similar to the vacation time of most Europeans - again in a year. Yet Rhona and I have come to expect at least 4 or 5 breaks of 6-weeks each in a year. We're spoiled, we realize it, we admit it…but we still feel we didn't have enough time to do Kyrgyzstan and Tajikistan justice. We'll definitely be heading back to the area.
Kashgar, China
Working on the boat takes a lot out of me. I generally leave the vessel completely wiped out and in poor health. On top of that I tend to have some fairly long 'commutes' back to Rhona - this one was a 33-hour oddysey covering Hammerfest-Tromso-Oslo-Copenhagen-Beijing-Urumqi-Kashgar. Exhausted when I reached Kashgar on the night of the 28th, I told Rhona I didn't want to leave the hotel room the following day. The plan was to sleep late, eat various snacks she'd stockpiled, watch movies, nap, and relax. The plan was working to perfection until we received a knock on the door around 7 PM. We were being kicked out of the hotel. A bit confused, we weren't sure we were interpreting correctly, so asked again. Yep, we, along with all other lodgers that evening, were being kicked to the curb. Certain it had nothing to do with the health risk associated with the noisy rat in our wall, we asked why. We're still not sure, though they said something about not having all paperwork in order, which sounded like an excuse to us. There was an extremely public display of soldiers in town because of the riots in July - especially in our area as we were staying directly across from the main mosque. As the hotel is Uyghur-run, we suspect the Han Chinese had ulterior motives for closing the place. Anyway, we hurriedly packed, flagged a taxi, and headed to another place - hoping that it wouldn't be next on the list of hotels to be randomly closed.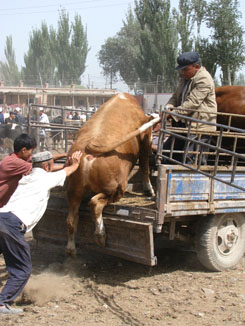 We'd just spent time in Kashgar in July, so it was interesting to see it again, though in different circumstances. This time it was Ramadan, the Islamic holy period, and so we noticed much less street food and refreshing drinks offered during the day, as the Muslims are to forego eating and drinking during daylight hours. We also noticed a lot more fish for sale at the street food stalls than we'd seen previously. However, we were surprised at the lack of people thronging the street stalls after dark. The norm in Kashgar seemed to be to buy the food from street carts during the day, and to simply eat the meal at home after dark. There wasn't the lively after-dark celebration we expected. Another difference we noted this time was the large police presence which wasn't there in early July. The Han authorities wanted to make sure there wouldn't be any more riots, thus the show of force.
While in Kashgar we once again attended the Sunday animal market, and then the normal market. I never tire of markets - the hustle and bustle, the pushing and shoving, the wheeling and dealing, is always entertaining. You feel transported back to Kashgar's heyday when it was a major stop on the Silk Road, and buyers and sellars came from near and far to deal in exotic goods.
We did a bit of damage ourselves, as we'd decided we wanted a couple of Muslim prayer rugs. Which was when I was introduced to yet another difference between the US and Australia. In the States, a couple is two, whereas in Australia a couple seems to be five! The following day was spent shipping our 5 carpets, pashmina shawls, CD's, books, knives, etc. to the States, and changing our excess Renminbi to US dollars. Both sound easy, but the two took us virtually all day to complete. I'll spare you the sordid details.
Kyrgyzstan
Kashgar was merely the staging point for this break - the real adventure was to take our first foray into the 'Stans' - namely Kyrgyzstan and Tajikistan. We opted to enter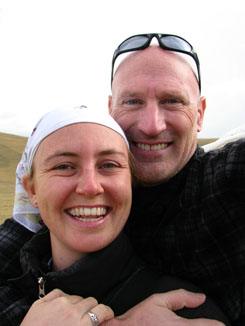 Kyrgyzstan via the Torugart Pass. There was an easier/cheaper way possible via public transportation, but we'd read that the Torugart Pass was one of the most difficult and most interesting border crossings in Asia. We simply HAD to go that way. As there is no public transport over the Torugart, travelers are required to organize transport to the border, and to have private transport waiting on the other side of the border to continue the journey. Rhona had posted notices around Kashgar asking if anyone wanted to join us over the pass, but we didn't have any takers, so ended up paying for the vehicles ourselves. A few hours out of Kashgar we went through the Chinese border formalities, which were anything but a formality. They insisted on seeing every photo we had taken in China. And not just once - twice, by two different people. I'd only taken a few photos and they were still on my camera, so it was painless for me to comply. Rhona had a lot more photos, and they had all been downloaded to her laptop, so she had to break that out to show that she didn't have any photos she shouldn't. Of course she did have photos she shouldn't - namely of the throngs of soldiers, but she'd been sure to hide those elsewhere on her laptop where they wouldn't be conspicuous. Anyway, we eventually made it through the photo check and assumed our bags would be searched next, as was the case for the locals. Nope - we were immediately stamped out of the country. I guess they think foreigners cause more problems with photos than by anything they can carry out of the country. I wasn't sorry to be leaving China.
From that checkpoint it was still 2 hours to the actual border - four hours for us as our vehicle kept breaking down. We finally arrived at a non-descript wide spot in the road, transferred our bags from one vehicle to another, and were on our way in Kyrgyzstan. "Uh…that's it? That's the notorious Torugart Pass?" To say we were underwhelmed would be an understatement. Had we known it was going to be so anticlimactic we'd have saved some money and taken the public transport across the other crossing. Live and learn…
Tash Rabat, Kyrgyzstan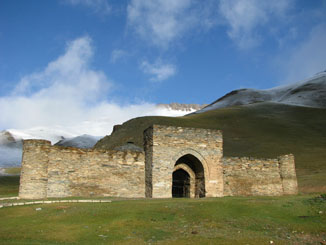 Two hours down the road we came to Tash Rabat, an old caravanserai around which yurts have been erected. We were shown to our yurt, which I was happy to see was authentic - unlike the concrete monstrosity we'd stayed in back in July near Karakol Lake in China. Inside our home-for-the-night we had cushions and blankets stacked on the grass floor - it was really cozy. It also had a stove which was fired up to take the chill off before we went to bed. We awoke the following morning to a blanketing of new snow, so proceeded to shoot some photos before breakfast. It was a great first night in a new country.
Song Kol, Kyrgyzstan
From Tash Rabat we drove two hours to Naryn, the main town in southeastern Kyrgyzstan. We only stopped long enough to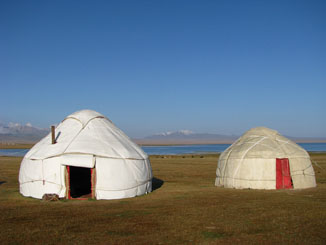 gather some information from a travel agency, change money, hop on internet, and eat lunch, before proceeding the 3 hours to Song Kol. We'd heard great things about the lake, which is Kyrgyzstan's second largest and sits at roughly 3000 meters elevation. It wasn't an overly spectacular setting, but after we were treated to tea and snacks I headed up a nearby hill to get the birds-eye view down to the lake. It was quite nice in the setting sun, with the various yurts scattered about the grasslands. Early the following morning I took another walk to watch the sunrise over the lake.
Leaving Song Kol we had planned on a long day of driving, but Rhona woke feeling sick and she was determined to break the world record for number of trips to a toilet in a day, so we stopped our journey just a few hours away, in Kochkor. After finding a homestay and getting settled into our room we simply showered (first time in several days), washed clothes (first time in several days), and relaxed. Kochkor didn't really have any must-see sites, anyway.
Jeti Oghuz, Kyrgyzstan
The standard mode of transportation in Kyrgyzstan is share taxi - private cars which can seat 4 passengers uncomfortably. Sometimes it's a driver who runs the route regularly, other times it's simply a person who has to drive to another town and will take a few people for some extra cash. I don't know how many times we played out the share-taxi scenario in our month of travel. We'd walk into the 'staging' area with our backpacks and the drivers would pounce, yelling out their destinations. Once we found those heading our way, the negotiations began. As I don't speak Russian, the haggling generally involved a notepad where prices and counter-prices could be written. It was always kept lighthearted as I'd try to play drivers off each other, and we ended up with some interesting scraps of paper from the process. We'd finally settle on a car/price/driver and load our bags. If we were the last two passengers we'd leave immediately. Otherwise, we sat patiently while the driver tried to fill the car - impressing upon others that he already had 2 people in the car and so he'd be leaving sooner. It was always entertaining.
That morning in Kochkor was our first experience with the share taxis, and it went well - we got the price we wanted and were the last two passengers, so the car left immediately. A few hours down the road in Balykchy we had to change to another car, and so repeated the haggling. That car took us along the southern shore of Issyk Kol, the largest lake in Kyrgyzstan, to a non-descript road junction, where we stood waiting for a final lift to take us the short distance up to Jeti Oghuz. Attempting to check into a decrepit Soviet-era sanitorium for the night proved to be our next challenge, but we once again proved equal to the task. Many people visit sanitoriums because of actual illnesses - submitting themselves to the gruff-looking women in white lab coats for regimens that can last up to 10 days. They believe curative waters, exercise, and healthy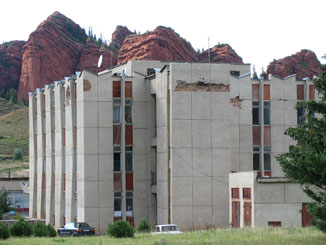 eating will make them feel healthy again. All Rhona and I were looking for was a strange place to spend the night…score!
From the outside we'd noticed broken windows and huge chunks missing from walls of the building. It was classic Soviet, utilitarian architecture - functional, but not pleasing to the eye. It wasn't any better inside. We were shown to our room, but when we tried the toilet, water, and lights, none worked. We eventually figured out the lights, but I had to track someone down for the toilet/water. Cue the charades. It was eventually impressed upon us that we'd have to use the public toilet down the hall. Not satisfied with that, I decided to play Mr. Fix-it to see if I could get the toilet to work. "Well, there it is - the water is actually turned off, I'll just turn that back on and…" There was a reason the water was off - the tank was full of cracks, and the packing tape holding the tank together didn't seem to make it watertight. On the bright side, we now had a swimming pool. We used the public toilet down the hall.
At the appointed hour we took our tickets and lined up for dinner. Everyone else seemed to know their assigned seat - we didn't, though they finally pointed us to an empty table. Everyone was served the same food, and it was brought out in short courses. There didn't seem to be a lot of idle chatter - everyone got on with the business of eating and then left immediately afterwards. It was a bit strange. The routine was repeated for breakfast the following morning.
In the morning we set off to do a day-hike. It was nice hiking up the valley along a small river. We could see snow-capped mountains at what would be our destination, but behind us we saw a storm approaching. About the time we decided to turn back 'before it rains', it opened up and started dumping. We hoofed it back to the sanitorium, waited 20 minutes for someone to open the door where we'd stored our bags, and proceeded over to a small store where we could try to flag down cars. After a few mis-cues we found a car that would take us to Karakol, for the price we wanted, and we were on our way.
Karakol, Kyrgyzstan
In Karakol we popped into the local CBT, or Community-Based Tourism. They were great places to get a quick overview of what an area had to offer, to get prices for share
taxis to surrounding destinations, and to see what homestays were available. We chose a homestay that looked nice, and a free taxi shuttled us to the place. We went out for a bit of a wander once the rain slowed, but it was my turn to be sick, and we beat a hasty retreat home. That night we had a great evening with a couple other travelers who were also staying at the homestay. It's always fun to sit around exchanging stories, gathering information, and talking into the night.
In the morning Rhona and I headed to the weekly animal market. As we'd just come form Kashgar we arrived with low expectations, but it was entertaining. The rain had left a lot of slimy, slippery mud in its wake, and on offer were cows, horses, and sheep - and plenty of vodka. Most entertaining was to watch people stuffing live sheep or cows into the trunk of a small car for transport back home.
From the animal market we walked to a Mosque with some interesting architecture - it reminded us of the Buddhist temples in South Korea. Next was a Russian Orthodox church - a beautiful wooden structure with the requisite onion domes. We enjoyed wandering around Karakol, as it was our first chance to get a true feel for Kyrgyzstan. To that point we'd stayed in yurts, or sequestered in a homestay, and hadn't had a chance to truly explore the country and its people. We always enjoy the first few days in a country - checking out the people and how they live. It was a good day.
We had planned on doing a few overnight hikes in the region but it wasn't to be. After talking to others who had been turned back, we discovered that the passes already had too much snow. The Lonely Planet states that September is the ideal month to be in Kyrgyzstan, which explained why we were there at that time. The locals told us the best months are July and August. Score one for the locals. We'll be back another year in July or August to take advantage of some of the incredible hiking opportunities Kyrgyzstan has to offer.
Kadji Sai, Kyrgyzstan
A share mini-van took us back along the southern road to Kadji-Sai. We were dumped along the main road, but quickly hitched a ride in a small car heading towards the actual town. We had stopped in Kadji-Sai to see the 'eagle hunter' and to stay at his homestay. There are still a few people around who train eagles for hunting. We'd already decided we weren't going to pay for the 'show', where the eagle swoops down from the skies to snatch a released rabbit in its talons - we just wanted to see the eagle.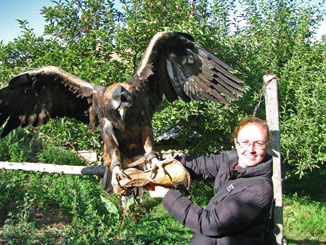 Unfortunately, the eagle hunter wasn't home when we tried. While standing there wondering what we'd do next, an elderly neighbor came by and, through sign language, made it known that we could stay at his place. We figured we'd give it a shot, and see the eagle later. We deposited our bags, and then the guy showed us some posters in his living room. It turns out that his son and daughter-in-law play traditional Kyrgyz music with their sons, and that they had played in the US. In fact, they had played at the Museum of the Rockies in Bozeman, Montana, not far from where I grew up. Strange coincidence! We went for a wander down to the lake, and then up to the actual town, before returning to our homestay. The grandfather and his grandson then proceeded to ply us with fruits from their local trees - cherries, apricots, and apples. That evening the daughter-in-law came home and made us a small meal. We showed her some of our pictures, she showed us some of hers, and in our few words of Russian and sign language we were able to have a really nice evening. It's times like that you look for while traveling - something completely random and unexpected that turns out to be a great experience and insight into the people.
The following morning we were finally able to see the eagle, and it was impressive. It was a 7-year old female, with some pretty impressive talons. Rhona and I were both able to hold it, and it was quite heavy. You'd definitely know you'd been hit if that came soaring down from the skies and grabbed you.
Naryn, Kyrgyzstan
We walked out to the main road to flag down a share mini-van to Balykchy, where we haggled for a share taxi to take us down to Naryn. Our plan kept changing as the day progressed, but we were essentially down in Naryn because it seemed to be the easiest way to get to Kazarman, and then farther west to Jalal-Abad and Arslanbob. How wrong we were. Even though it's close to Naryn, there is only a bus to Kazarman early on Tuesdays and Fridays - we were there on a Tuesday afternoon. We didn't have time to wait around for the next bus, so figured we'd simply take a share taxi. Except share taxis don't tend to go there because they can't get a return fare. The guys who said they'd do it as a private run for us wanted too much money. Therefore, the following morning we grabbed a share taxi and headed all the way back up to Bishkek, the capital, which we could have reached without changing vehicles had we simply stayed in the first share mini-van the previous day. Oh well…..
Arslanbob, Kyrgyzstan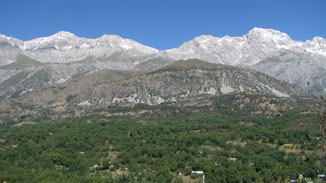 We reached Bishkek around 1:00 PM and started haggling immediately to get a share taxi down to Bazaar Korgon, from where we'd hitch another ride to Arslanbob. After a lot of charades, writing prices in notebooks, and frustration, we had a guy who 'said' he'd leave at 2:00 PM. Sweet! Until 2:00 rolled around, and we discovered he had no intention of leaving. About that time a driver showed up who could speak English, and he explained to us that all of the vehicles heading south leave Bishkek at night around 9:00 PM, such that they arrive in Jalal-Abad early the following morning. Back to the haggling. Everyone seemed to want more money than we'd been lead to believe it should have cost in a share taxi. Granted these were SUV's because of the poor road conditions, and they could take 4-6 people, but it was still a bit much. About that time a young guy came up who also spoke English. He said they could do the run in 6-hours, which meant that if we left immediately (it was 3:15) we'd get to Bazaar Korgon at a decent hour. However, we'd have to pay the private rates, as he'd have to forego other passengers - you're basically paying for the vehicle. I haggled assuming it was a small 4-passenger vehicle, and got a decent rate, only to find out it was a larger vehicle. Cool - we have a good price and we're leaving right away. Or not. We stopped to pick up a lot of blankets and other odds-and-ends for one of the guys who was moving back south. It was while loading the vehicle that the guy asked, "Do you have a map?" We just laughed it off, but it turned out he was serious. He eventually came back with what looked like a kid's map on a plastic sheet, and that's what they used while driving. That should have been our warning….
At 10:00 PM we stopped to eat. As it had been the aforementioned 6 hours on the road, we asked when we'd arrive. "It will be 2:00, maybe 2:30″. Hmmmmm. So much for our 6-hour trip. About 2:30 we were near where we wanted to be, so the guys started asking around about places for us to spend the night. We drove around for 1 1/2 hours searching in vain for a place to stay. When I asked what they would do after dropping us off, they said they'd sleep in the vehicle. "Done - pull over somewhere and we'll all sleep in the car." A couple of uncomfortable hours later, around 6:00 AM, we were ready to move. They couldn't be convinced to take us all the way to Arslanbob, so we parted ways and were immediately accosted by touts quoting crazy prices for the trip. We walked away from them along the road in the direction of Arslanbob, assuming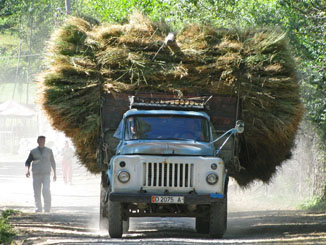 that we'd be able to flag something down. After about an hour that wasn't looking like the best of plans, as passing cars were either full, or wanted too much money, but then we got lucky and caught a ride. We finally rocked up in Arslanbob around 10:00 AM. We'd left Naryn the previous day at 7:00 AM. It had been a long 'day'.
Thankfully Arslanbob was worth the effort. It was a great little Uzbek community nestled against some impressive mountains. After settling into our homestay, having some tea and snacks, and decompressing, we set off exploring. We worked our way to one of the nearby waterfalls, and then back into the walnut forest for which Arslanbob is famous. Unfortunately, we learned that heavy rains earlier in the year had all but ruined this years crop. The following day we set off exploring in the other direction. It was a perfectly clear day, so we wanted to climb to a high point from which we could get some nice photos of the mountains above Arslanbob. Throughout the day we encountered large trucks overladen with grass, which was being hauled back to town for use as feed for the animals through the winter. Invariably there would be a couple of people riding on the swaying cargo. We had a fantastic day wandering - basking in the sun while admiring the mountains, walking with a young boy who picked heads of sunflowers for us to eat, and playing the Tibetan game, Sho, in a perfect little setting. A great travel day.
There are supposed to be some nice hikes in the mountains near Arslanbob, so when we return to Kyrgyzstan with our focus on hiking we'll definitely be returning to this great little village.
Osh, Kyrgyzstan
From Arslanbob we grabbed a share taxi down to Osh, and spent a few days wandering around there. Our first full day we spent meandering through the large Sunday market. Seemingly everything was for sale at that place, and we killed hours getting lost in the maze of stalls. That night we were hanging out in our room when there was a knock on the door. I answered and a woman started talking in Russian, miming, and pointing past me. I turned, and all I could see was our TV in that direction. "You want to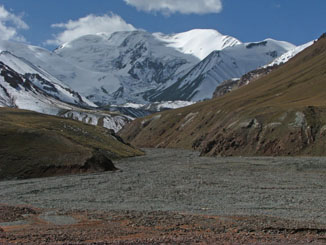 take our TV? Seriously?!?" Yep, that's what she wanted. I guess they'd heard foreigners were in the room next to them - foreigners who probably weren't using the TV, so why shouldn't they have it in their room? Why indeed. Rhona went to find someone who worked at the hotel just to clue them in on what was happening (in case their TV wound up for sale on the street) and I proceeded to disconnect the TV and haul it into our neighbors room. Bizarre.
The following day we wandered a bit more, including climbing up to the only real 'site' in Osh - Solomon's Throne. It was essentially a rocky point in the center of the city, which was less than spectacular. Still, we climbed up, looked down upon the city, hung out for a short time, and then descended. Been there…done that.
We had been told of an area where share taxis would be leaving for Murgab, Tajikistan, so that night we headed down there to see what we could learn. We were prepared to either leave immediately or the following morning. We finally found the lot and spent the next several hours being bandied from one group to the next, piecing together what we understood to be the story on transport to Tajikistan, and playing endless games of charades and writing things on my notepad while surrounded by a ring of locals. It was entertaining. The bottom line (we think) was that no vehicles were leaving that night, because there weren't enough people that wanted to go. The following day/night wasn't a given, either. We'd been warned of that. As we wanted to leave the following morning at the latest, that left a private car. Many I 'talked' to wanted an outrageous price to take only Rhona and I. There were several dodgy characters about, but one quiet guy had been doing his best all night to help us. We finally told him that if he was available, and we could agree on a decent price, we'd go with him. It probably still took us an hour from that point to hammer home a deal, but we finally agreed that he would pick us up the following morning at 5:00 AM and we'd proceed to Tajikistan.
Murgab, Tajikistan
The scenery was nice between Osh and Murgab - particularly near the border where some of the highest mountains in the region can be found. We were a bit nervous as we approached the Tajikistan border, as we weren't convinced we had the required permit for the region. We thought we did, then we second-guessed that, then we realized that what we thought might be the permit (which had already been glued into Rhona's diary) only had her name on it. Anyway, we made it through the border checkpoint without problem, but became a bit apprehensive at each subsequent checkpoint until we were out of the region.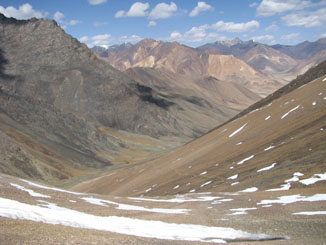 There wasn't much to Murgab - a few homes scattered about and a market of stalls in old shipping containers. The following morning we were picked up by a guide and driver, as we'd arranged to go for a day-hike in the region. We had to explore the Pamirs! The hike lasted 6-7 hours and took us up over a pass with nice views in all directions. The Pamirs are a barren, stark range of mountains, and seemed to be comprised of a lot of scree slopes. Challenging walking to say the least going up, and down, the pass. During the day we came upon four Ibex and a fox, so it was good to see a bit of wildlife - and to stretch the legs.
A soak in an extremely hot spring, and overflowing generosity from our guide's family in the form of tea, bread, and potatoes, and then we were back at our homestay - well after dark. A nice day.
Khorog, Tajikistan
We had wanted to take the most southern road through the Wakhan Corridor between Murgab and Khorog. The road follows the Afghanistan border and is supposed to be pretty spectacular, though not always completely safe. Unfortunately, share taxis tended to take the more northern, direct route between the two towns. As a private car was going to cost us $450, we opted for the share taxi and the direct route, saving the southern route for some other time.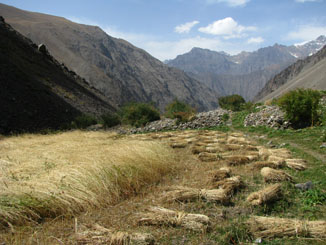 The first thing we noticed about Khorog were the number of people walking the streets. There's a university in town and students seemed to be everywhere. After getting settled into our homestay we headed out for a bit of internet. We had just finished and were back out on the street when we looked up to see a jeep on fire in the middle of the road. Human nature being what it is, people seemed to be racing towards the burning vehicle rather than running away. We stood well back watching as people put out the leaping flames. Never a dull moment.
The following morning we waited while a share taxi acquired enough people to start the journey towards Geisev. At a spot in the road with a pedestrian bridge across the river we left the taxi and started the hike up to the farthest village of Geisev, 3-4 hours distant. There are three villages in the valley, simply designated villages 1, 2, and 3. After 2 1/2 hours we arrived in village 1, where a local who could speak English gave us some information over tea. A project had been set up to arrange homestays in the valley, which brought much-needed money into the communities. The homestay families were provided with mattresses, blankets, dishes, pit toilets, and rudimentary showers for their guests, while those visiting got a glimpse into a more traditional way of life. A definite win-win situation. We continued walking uphill through fields until we reached the third village just prior to nightfall and rain. There was only one family in the village at the moment, but they did run a homestay, so we had a place to sleep for the night. We were treated to a simple, filling meal, played a few games of Sho, and then called it a day.
The following morning dawned clear and beautiful so we headed up the valley a bit farther to see a lake, and to check out the mountains. Always wanting to go higher to see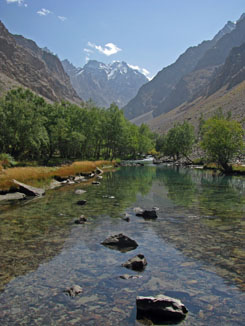 what was there, but knowing that we had a long day in front of us, we finally turned around and headed back to the road. As we passed back through Village 1 the guy who could speak English once again told us that we should pre-arrange a taxi to meet us at the road. We'd been hearing that from people both days - that without a pre-arranged taxi we'd wait forever. Some went so far as to say that no share taxis were actually going to be running on the day we left the valley - it was their day off. We politely declined the offer of an expensive pre-arranged taxi and said that we'd take our chances. In the worst case scenario we figured we'd hike the 3 hours to the road, and then have to hike another 10 kms. to a larger village. Absolute worst case we'd then have to walk 20 kms. the following day out to a 'main' road.
We hit the road, walked a mere 20 minutes, and then flagged down a passing mini-van. There was room for two more, it was going all the way to Khorog, and he quoted a good price. All I can say is that Rhona and I must be living right. We piled into the back seat and headed down the road. We noted that a guy in the seat in front of us was holding a box. As there was plenty of room back by Rhona and I, we indicated he could put his box on the seat with us. We both heard the noises from time to time, and saw the holes in the box. Curiousity finally got the better of us. There was a live bird in the box.
Straying from our norm we were actually hoping to catch the flight from Khorog to the capital, Dushanbe. We'd heard that it was a frightening, scenic trip as the plane flies through valleys surrounded by towering mountains. It sounded incredible. Unfortunately, we weren't able to arrange it while we were in Khorog, so we resigned ourselves to taking a share taxi. No problem - it should only be about a 10-14 hour trip. Or not…
We hit the staging area at 7:00 the following morning, and chose our chariot when it started filling up with locals. We knew it would be the first to leave, so we'd get into Dushanbe in good time later that day. We were feeling pretty smug, but should have known we were in for a long ride when it took us 45 minutes to get out of town. We pulled into a gas station and honked to wake someone up. Evidently the guy with the key to the tire repair part of the building wasn't there, so we drove back into town, rousted him out of bed, returned with him to the gas station, and picked up a couple of spare tires. That should have been a large warning sign. We returned the guy to his house, and then set off. Only an hour down the road we stopped for breakfast. Shortly after that we had our first flat tire. We swapped it with a spare and were on our way fairly quickly. Not wanting to have a punctured spare, we stopped at a little tire repair place along the road to have the tire fixed, which took well over an hour. The tires actually had tubes. I killed time by playing frisbee with the local kids.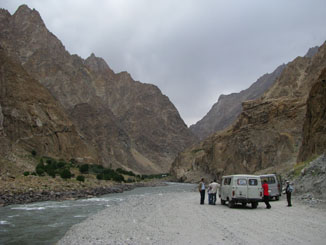 We had just passed a shack by the road serving food and were considering stopping for lunch, but decided to go a short distance down the road to another place. Short distance was right - almost immediately our back left tire went flat. We walked back to the house for lunch, and sat staring across the river into Afghanistan. We had been driving along the river marking the border. Once the tire was fixed we were on our way again. We stopped a few more times for tire and overheating issues, and then stopped at a rest stop after climbing a hill. The driver and his lackey were concerned with the engine overheating, so were filling the radiator with water. We were all simply relaxing, killing time - Rhona and I playing Sho on a small embankment overlooking the mini-van. All of a sudden we heard an explosion - it was our back right tire. Lackey wasn't impressed - throwing his water bucket (which he had just used to fill the radiator) down in disgust. The driver went off with someone else, and returned shortly with a belt that we needed. He then went off in the other direction to find another tire, or tube. Lackey spent over an hour trying to put the belt on, to no avail - finally resorting to kicking the mini-van in disgust. The driver finally returned, the back right tire was replaced, it was pumped up with a hand bicycle pump, and, after 3 hours, we were on our way….for 15 minutes. We then stopped for another hour to get a proper sized belt and installed that.
At midnight there was a mini revolt and everyone decided we needed to stop for the night. It's 621 kms between Khorog and Dushanbe - we'd covered 337 in 16 or 17 hours. We found a place that would take us in, and finally got to sleep around 1:00 AM. Rhona and I had been given a room, while everyone else slept outside together. In the morning when we went out to check on them we were told that they had already left. Not impressed. We got ready (which involved using a really nasty outdoor toilet and brushing our teeth into a stream with the locals) and then headed out to find our tribe. We tracked them down, but they weren't ready to go - they were working on the mini-van. Big surprise. We had wanted to be in Dushanbe by this point because it was the end of Ramadan. We wanted to experience the celebration. Another reason we had wanted to be in Dushanbe was that it was our 6-month anniversary. Instead, we were going to be spending another day on the road. Wasn't meant to be.
While the guys worked on the van Rhona and I sat in the street and played Sho, attracting a few onlookers. We were finally told to pile in - we were off! For an hour. Cue puncture of back right tire. Fixing that one took us 4 hours. At first we had to beg a tube off a passing motorist. The tire was then separated from the rim, and the new tube was seated. And then we were seated. I couldn't figure out what was happening - what we were waiting for, but it turned out that we didn't have a pump! We had to wait for someone to come by, but since it was the end of Ramadan, there was very little traffic. Three goods trucks finally passed by, inflated our tire, and we were on our way.
About the only decent thing to happen that day was lunch. We ate in a shepherd's wagon converted into a 'restaurant' by the side of the road. As Ramadan was completed they gave us the meal for free. Sweet. After lunch we started having issues with the van - as in it didn't want to go. We had to push start it several times through the mud and rain puddles. An hour or two later we limped into a small village and got some more gas. Evidently a lot of the fuel is dodgy as there are no controls, so that was why the van was having so many problems. While there the one devout Muslim went off to pray, and I was invited to join 3 other guys for some covert vodka drinking. We went into a small shack where a store owner brought out a bottle of vodka. We finished the bottle with the four glasses that were poured, and quickly downed the firewater in one gulp.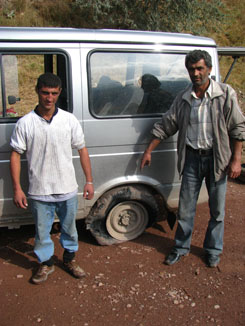 We also made short work of the second bottle when it arrived - two bottles of vodka in about 5 minutes. We piled back into the van and were on our way again. Shortly before dark we had another flat, begged a tube, begged a pump, and got back on the road. Around 10 or 11 PM we had our 3rd flat of the day. Everyone jumped out of the van, but Rhona and I stayed in the back seat - shell-shocked. I finally got out to see what was happening, and noticed everyone else in the cab of a large truck which had pulled up. About the time what I was seeing registered in my brain the truck took off - the other passengers had bailed on us! It was now just the driver, lackey, Rhona, and I. Three flat tires that day to go with the three the previous day, we spent a grand total of $0.68 for the day, and we were sleeping in a van somewhere in the Pamir mountains - Happy 6-month anniversary, babe. Do I know how to show a gal a good time or what?!?
The following morning we prepared the tire and then waited until someone drove by who had a pump. The driver, lackey, and I took turns pumping the tire which had popped, as well as another tire which was low. And then we were on our way - full of hope. For 15 minutes. POW! Back left tire blew. The driver got out, looked at it, and then looked 15-20 kms into the distance, where he saw a checkpoint at a road junction. He decided to soldier on - flat tire be damned! In that 15-20 kms we shredded the back left tire and were essentially driving on the rim, and also punctured the front right tire. Talk about an embarrassing entrance to the checkpoint. Rhona and I finally decided it was time to part company with the van. We'd given it our best, but 50 hours into a 14 hour trip was enough. With the help of the driver we arranged transport in another SUV, said goodbye to the driver and lackey, and were on our way to Dushanbe. We spent the next 5 hours sitting in the very back of the SUV, facing out the back window, but we didn't care - the vehicle kept moving. A short distance outside of Dushanbe we had to stop at a roadside house to have the car washed, as it's been decreed that no dirty cars are allowed in Dushanbe. Finally, 55 hours after starting our little adventure, we pulled into Dushanbe. Next time we'll try harder to get those flights!
Dushanbe, Tajikistan
It turned out that we weren't out of the woods yet. We'd already decided that we were going to splurge on a nice room in Dushanbe for our anniversary. Of course, that had already passed by this point. Still, it was pretty easy to justify a splurge after the road trip from hell, so we hopped in a cab and told the guy where we wanted to go. We stopped every 5 minutes thereafter so he could ask directions from other people. We finally found it and were buzzed through the gate, into a large yard, and were staring at a beautiful guesthouse. Ahhhhhhhh - just what we needed. Until we tried to check in. "Do you have a reservation? No? Well, I'm sorry, but we're full for the night." Our stunned silence and slack jaws must have scared him, as he quickly offered to call another place that he knew of similar quality. "Yes - they do have a room and I can have our taxi driver take you over there right away." The place was perfect, and we could finally relax. The room was $120/night, whereas we'd only been paying $15/night everywhere else, but we didn't care. We'd finally arrived in Dushanbe. After a much needed shower we walked a short distance to a place that did fantastic food, where we oohed and ahhed over appetizers, mains, desserts, and drinks. Between the room and the food splurge we were starting to feel human again.
The following day we simply wandered around Dushanbe - seeing what it had to offer, and trying to organize a trip north of Dushanbe for the following day.
Iskander Kul, Tajikistan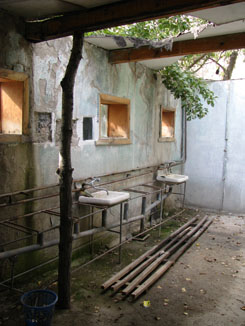 Our plan kept changing right up until the time we left Dushanbe the following morning. We had wanted to do some hiking in the Fan Mountains, but our delay in getting to Dushanbe, coupled with my impending departure for work, made that unreasonable. Instead, we haggled with taxi drivers to take us to Iskander Kul, a beautiful lake where we'd spend the night in a former Soviet 'holiday' village, and then drive us on to Istaravshan the following day. We finally reached an agreement with a driver and we were on our way. The drive was nice - up and over a pass with nice views. The full drive between Dushanbe and Istaravshan traverses two passes, but they're actually constructing tunnels that will eliminate both. That will cut the drive time down considerably.
We enjoyed the luxury of having our own vehicle in that we could stop anytime for photos. It was a bonus that we didn't have any flat tires. Once we reached Iskander Kul we checked into our Soviet-era bungalow. I love the run-down nature of a lot of the old Soviet places. The bungalows were extremely basic, though colorful painting on the walls inside tried to brighten the scene. There was a toilet and shower block out back. The shower block was missing most of the roof, and all windows, and there were rust stains in the sinks. The water would have been freezing, as it was simply coming from a tank on the roof.
We proceeded to walk along the lake shore, snapping photos of the beautiful lake and surrounding mountains, before rounding out the day with some basic dinner and games of Sho.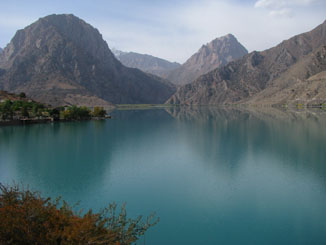 The following morning a local guy took us on a short walk to a nearby waterfall. More interesting were all the berries he picked from the bushes - I don't know how many varieties we tried - some sweet, some sour, some inedible. We weren't the only ones who enjoyed the berries - we also saw several piles of bear scat. We then climbed a small hill to get an overview of the lake. There are some great hiking trails that branch off from the lake, but again, those were going to have to wait for some other time. I definitely had my sights on a few mountains around there, though.
Istaravshan, Tajikistan
After the walk we piled into the car and headed to Istaravshan. What a strange place. There's a large market in town, and a main street that seemed clogged with share taxis heading to various destinations. Everything seemed to be under construction. After we got settled we went out to wander the town, but we both had uneasy feelings. It was one of those places where everyone seemed to be sizing you up to see what they could get from you. It definitely wasn't a friendly welcome. We grabbed a bite to eat, wandered a bit more, and then called it a night, hoping it would look better in the morning.
The following morning we set out to find the old town. Once there we attracted throngs of kids, all wanting their photo taken - at first. After awhile it deteriorated into a few of the more obnoxious brats wanting money, pulling on backpacks, and just being a nuisance. At one point a woman walked by and said, "hello", and we replied. We found most of the time that was all the English the other person knew, and so didn't expect any more from this encounter, but it turned out that she had been an English teacher for something like 30 years. She invited us back to her place, and we spent time eating snacks, drinking tea, and asking her many questions about Tajikistan. It was a nice afternoon.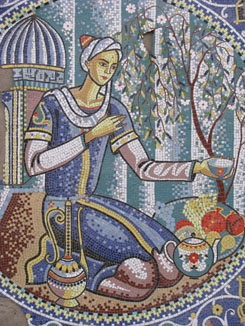 The next morning we waded into the hordes with our backpacks and started playing the share taxi game. We eventually ended up with a guy who would take just the two of us, so essentially a private taxi, but for the share price. We couldn't refuse that, and so piled in and were on our way. It's normally about an 8-hour drive to Dushanbe, but we were held up for 3 hours behind some Chinese road crews paving the road. I didn't think it was the best timing on their part, and I'm not quite sure why they can't work overnight as is done in the States so as to impact less traffic.
The following day was my last one in Dushanbe, and last for my break - I was heading back to work early on September 29 with flights to Riga, Oslo, and Alta, and then a 2-hour bus up to Hammerfest.
For me, Kyrgyzstan and Tajikistan are rough roads, share taxis, and beautiful mountains. There seem to be some great hiking opportunities in both countries, though we weren't able to take advantage this time. People were generally friendly, with a lot of different ethnic 'looks' - and a lot of gold-capped teeth. When traveling in either country be prepared for long transportation days and minimal showers. And take advantage of the yurt and home stay programs to get a better understanding of local life. We enjoyed our time in both countries, though it was far too rushed to do everything we wanted. We will be back.
I'm currently up here in the Barents Sea, where it's been too rough to collect data for the last 10 days. I was originally scheduled to get off the vessel November 4, though it looks like I may end up staying longer - probably until mid November, though nothing is certain at this point. Rhona has been enjoying her time in Dushanbe; Riga and Sigulda, Latvia; and Tallinn, Estonia. Tomorrow she leaves for Helsinki, Finland, and will also visit Stockholm, Sweden, before meeting me in Hammerfest on November 4. She wants to see the vessel I've been calling home for the last couple of years when I haven't been with her. As I'll most likely head back out to work that same day, she'll continue to kill time until we can meet again to start our shared adventure. We're still not certain where that will be. The original plan was Egypt, Jordan, and Israel, though I believe right now we're leaning towards Ukraine and Bulgaria. Stay tuned.