Looks like it's been almost four months since my last update. In my defense, there have been some other things taking precedence lately - namely preparing for that little event on March 21 known as our wedding! However, I figure a short update outlining the previous couple of months is in order, so decided to quickly put fingers to keyboard. This should be the last 'normal' update for awhile, as Rhona and I will set off traveling again right after the wedding - adventure and mayhem awaits…stay tuned!
I spent my last rotation at work in the instep of Italy's boot. It was touch-and-go on whether or not I'd be able to leave the vessel as planned on December 17th, but they were eventually able to find a replacement and I was on my way to Australia to spend the holidays with Rhona and her family. I arrived on the evening of December 19th, and we proceeded to take care of as many must-do tasks as we could before Christmas. I also met some of her family for the first time, as well as some of her friends. It was nice to finally put faces to names.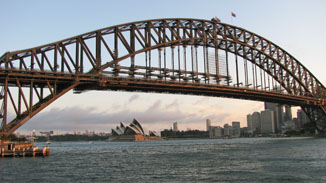 As expected, it wasn't exactly a white Christmas in Sydney, though it wasn't nearly as hot and humid as I'd expected, either - that would come later in my visit. Christmas was a quiet affair spent with family, as Rhona's aunt, uncle, cousin, and grandma joined us on Christmas Day for some great food out on the deck. Very nice.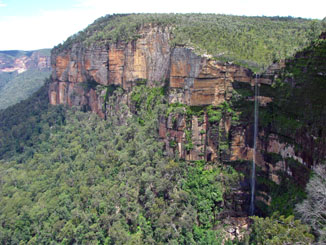 We had access to a car between Christmas and New Years, so wandered a bit around Sydney. We also took an overnight trip into the Blue Mountains. It was nice to get away and to do some short walks in the region.
Back in town for New Years we positioned ourselves down by the Harbor Bridge for the fireworks display. The pyrotechnics actually occur twice that night - once at 9 PM for families with small children, and another larger offering at midnight. I've always enjoyed fireworks, but not to the point of oohing and ahhing. However, I must say that the midnight fireworks in Sydney are spectacular! They shoot from the bridge, from various barges along the river, and from a number of buildings in the city. The finale lights up the night sky and leaves you smiling and speechless. Best I've ever seen.
A few days into 2009 Rhona, her parents, and I hopped a flight down to Tasmania for two weeks of hiking. Our first destination was to be the lake after which Rhona was named. Three months before Rhona was born her dad and a friend were hiking in Tasmania, and proceeded into Lake Rhona. "Hmmmm….'Rhona'….not bad." Voila! Rhona had hiked into the lake with her dad a few years ago, but her mom had never been - and of course neither had I.
Our hike almost ended before it started. We drove to the trail head and set off, only to encounter a swollen Gordon River after less than an hour of walking. Another hiker actually had an inflatable raft which he attempted to use in the crossing, but the current quickly swept him downstream. He next decided to wade across and to string a light rope from one bank to the other. Seeing that it would be possible to cross - as long as we waded with care, we set out. The water level came to my waist, and though the current was stronger in the middle of the river, the riverbed was even enough to allow good foot placements. We proceeded to carry the packs across - or to ferry them across in the raft - and eventually got everyone to the other side.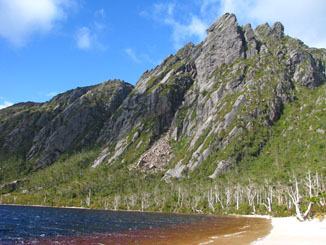 The trail was fairly muddy from the same rains which had produced the swollen river. At times we stepped acrobatically in an attempt to keep our feet dry, while other times we simply resigned ourselves to sloshing through the deep mud. Thick brush encroaching on the trail also made progress slow, and my decision to not wear gaiters the first two days resulted in scratched and bloody legs. However, that simply brought a smile to my face - I always say it's not a proper hike/adventure until you draw a little blood! I was enjoying myself - much to Rhona's chagrin.
We made camp short of the lake that night, and then continued the following day - finally arriving in a rain squall. Who knew Rhona could be so moody?!? (The lake, dear…I meant the lake)
We quickly set up a couple of tents as our homes for the next two nights. We had wanted to wander a bit to take it all in, but the strong wind and rain dictated otherwise, so we spent the remainder of the day out of the rain, eating, and calling it an early night.
Lake Rhona sits in an amphitheater of surrounding ridges and peaks, so the following morning we set out to climb that ridge and walk the circuit. In the morning we had decent weather and some nice views down to the beautiful lake, and stopped often for photos. Unfortunately, the wind and rain soon returned, and we made fewer and fewer stops as we proceeded around the lake and back down to our waiting tents.
The following day we turned our back on Lake Rhona and headed out. As Rhona said, it would be nice to visit the lake sometime in sunshine - it's been rainy for both of her visits. The lake is beautiful, the surrounding rocky amphitheater is great for scrambles, and there is a sandy beach which would be a nice place to wile away several hours on a sunny afternoon.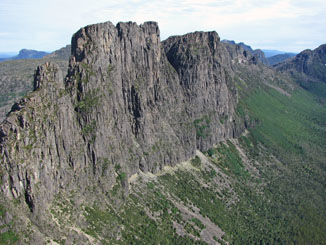 We departed as we had arrived - in the rain. Rather than take two days to walk out to the trail head, we opted to do it in one. It made for a longer day, but once you've reached your destination and you're heading back out you just want to have the hike finished. In the three days since our previous river crossing the Gordon had receded to knee level, and we crossed back without incident.
Our next hikes took us to the Lake St. Clair region of the Overland Track, which I had hiked back in 2001. We camped near the trail head the first night, caught a boat across the lake the following morning, and made the short hike into Pine Valley. We spent the next couple of days doing day hikes from our tented homes. The first day we headed up the Acropolis - a nice walk, and a few scrambles, to a summit providing panoramic views. It was great to rock-hop from boulder to boulder, from column to column, while enjoying the sunshine on the summit.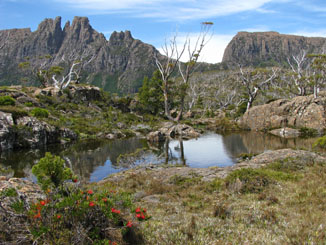 The following day we headed into the Labyrinth - an area of glacial lakes and picturesque surrounding peaks. The skies cleared when we arrived back at Lake Elysia, and we admired the beautiful surroundings - which we had to ourselves. The only downside to the day were the ants. We had to stomp our feet every couple of steps, or brush with our hands, to shake them loose. I've never seen that many ants - they were everywhere!
A final day hike on the Tarn Shelf a short distance above the Mt. Field campground concluded our hiking in Tasmania. It's always nice to get out and stretch the legs, so I enjoyed the two weeks down there. I had spent a month in Tasmania back in 2001, and had stated at that time that I could live down there quite easily. I still stand by that - a nice place.
Rhona and I spent a couple of nights in Melbourne on the way back to Sydney in order for me to meet her other grandma. I enjoyed being able to spend so much time getting to know her family.
Back in Sydney we kicked it up a notch and started getting a lot accomplished on the wedding front - meeting with photographer, celebrant, organizing hotel, planning vows, getting rings, etc. We'll both be happy to have March 21st behind us - when we're married and back on the road again. We seem to thrive on that chaos and uncertainty, and are both looking forward to getting back out there.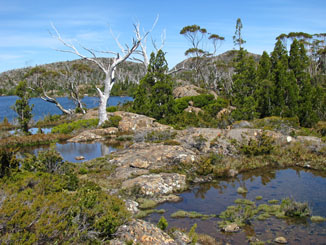 One other thing we did a few times while in Sydney was to attend the Moonlight Cinema. I've always loved that concept - outdoor movies. We went to a park, rented a couple of bean-beds for cushions, and commenced to drink wine, eat crackers with dips and cheese, and munch on veggies while watching a movie. How great is that?!?
As always, our 6 weeks together went all too quickly and we soon found ourselves staring down the barrel of January 28th - the date I would normally be due back on the vessel. I say normally because the vessel was actually in transit from Italy to the Gulf of Mexico, and so they weren't ready for me to board. Rhona had already planned on flying to Fiji that day with her sister and her sister's boyfriend, as she thought I'd be back at work. I decided to head to the States until I was needed back onboard, which has given me a chance to catch up with some people, take care of taxes, and attempt to get everything in order for another couple of years away. I'll also be able to see family - especially important as one of my sisters and her family won't be able to make it over to Australia for the wedding. As of today I have no idea when, or if, I'll be going to work. The boat is hung up in Spain with engine troubles. They're hoping to have the new turbocharger in and tested today, after which it's a 19-day transit into the Gulf of Mexico, making an arrival of early March. However, I'll still need to disembark at the March 11th crew change such that I can make it back to Sydney, finalize wedding arrangements, get hitched, and hit the road!
After the wedding on the 21st we're having a barbecue on the 22nd. Monday the 23rd will be spent getting marriage certificates, taking some paperwork to the US Consulate, shipping a package home, and ensuring we have everything in order. On the 24th we fly to Japan, and we'll be off and running - hopefully traveling for a couple of years. We'll travel together during my 6-week breaks, and when I'm back at work Rhona will continue to travel on her own. We'll then meet up down the road somewhere, and spend another 6 weeks together. Should be an adventure.
I hope that 2009 is treating everyone well, and I'll try to update again shortly after the wedding.