Dates Traveled: September-October 2008
Hong Kong
My six weeks of work finished on September 24th, and I immediately caught a flight from Norway to Hong Kong. Friday morning I turned my passport into an agency to obtain a Chinese visa, but because the visa wouldn't be ready until Monday, I had a weekend to kill in Hong Kong. The Chinese ensured I had less money for those two days, as the visa cost for Americans was an outlandish US$200 at the time. Ouch!
My time in Hong Kong was pretty uneventful, though I did head immediately to my favorite sandwich shop - Archie B's on the mid-level escalator for the curious amongst you. I paid a lot of money for the Dagwood, but it's massive - so big that you have to take a bite out of the bottom half, followed by a bite out of the top half. Mmmmm…
I also managed to take in an IMAX film pertaining to climbing in the Alps, and I wandered aimlessly around Kowloon. There seems to be a lot of new construction on Nathan Road, and I can't help but think that most/all of it is driven by mainland Chinese.
China
After securing my visa on Monday I crossed the border to Shenzhen, in mainland China, and then flew from there to Chengdu. Mainland flights are generally cheaper from Shenzhen than from Hong Kong.
Early the following morning I learned that when the Olympic torch passed through Chengdu, the parade route was well outside of the city center. 'Approved' Han Chinese were hand-picked, bused to the parade route, and paid, to serve as the enthusiastic backdrop to the torch relay - no 'normal' Chinese, or persons of other ethnicity, need apply. That ensured there would be no problems along the parade route, and mirrored what had happened in other countries (Australia and Japan included) where busloads of Chinese students were brought in, and paid, to represent the cheering Chinese contingent. It's amazing the steps the Chinese took to ensure there were no disturbances during the torch relay while on Chinese soil, and during the Olympic games themselves. Next time I'm in town shout me a beer and I'll tell you some of the other stories I've heard….
That first morning in Chengdu I was also able to get a bit of a feel for the situation in Tibet. It wasn't good. Because of the aftermath from events in March, the Chinese authorities were still cracking down on travel into Lhasa. It wasn't possible for me to obtain a permit, and subsequently fly to Lhasa, so I decided to see if I could buy a train ticket and get to Lhasa that way. I'd read that sometimes permits are checked during the 48-hour train journey, and other times they're not. I decided to chance it. Luck wasn't with me. It was the beginning of National Day, which is a week-long holiday in China. I don't know if that brought extra security measures, but I wasn't even allowed to board the train in Chengdu. There was a separate line, outside the main train terminal, for passengers heading to Lhasa. Locals had to show their identity card, which was then photographed. They then passed through a metal detector. Foreigners had to present a permit, of which I had none. No amount of story telling, and subsequent pleading dumb, was doing me any good, leaving me no choice but to refund my train ticket.
There was one other option available to me, but I took all the difficulties as a sign that I wasn't meant to get to Tibet this time. Had I made it to Lhasa it may have also caused problems for my friends, as they may have been called in to explain their relationship with me. I decided to hang my tail between my legs, retrace my journey to Hong Kong, and then fly to Japan.
Japan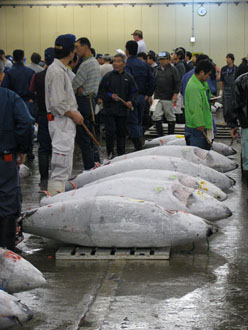 Actually, it wasn't quite that easy. Because of the aforementioned week-long Chinese holiday, many of the cheap accommodation options I know of in Hong Kong were fully booked. After walking from the 13th floor down to the 5th in the Mirador Mansion (don't let the name fool you - the place is a dump), and finding that the 3-5 guesthouses on each floor were full, I finally found a room available. It was tiny, but had 3 beds, meaning I had to pay US$45 - a lot more than I'd planned. Still, I had a place to rest my head for my last night in Hong Kong. Early the following morning I was on a bus to the airport, and subsequently flying to Tokyo.
Unlike last break when Rhona was able to get a few weeks vacation, this time she's had to work. Still, it's only a few more weeks and then she's done for the season, and flying from Tokyo to Sydney. She's most likely finished with work for a few years, meaning that all of my subsequent breaks will be spent together 24/7. We're both looking forward to that, and the crazy globe-trotting adventures which will ensue.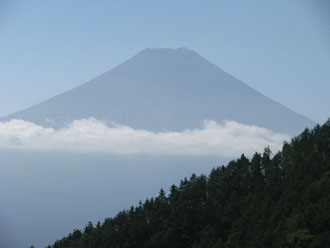 In the two-and-a-half weeks I've been here we've still managed to do a few things in the evenings after her work day is over, or on weekends. Or eeeearly in the mornings. One of the first places we visited was the Tsukiji fish market here in Tokyo, which entailed being on the 5:30 AM train. Oof! The market itself carries on through most of the morning - on every day but Sunday - but the tuna auction happens early. I enjoyed watching the buyers grade the tuna before bidding. After the auction we wandered around the market watching the wholesalers arranging their seafood, slicing up tuna, and making deals with various restaurants representatives.
One Sunday we were able to catch an early train to the Fuji region to do a day hike. We actually had a view of Fuji when we first started, though by the time we made it to our mountaintop destination the clouds had moved in for the day, and there was no sign of Fuji. Still, it was a nice day out in the woods.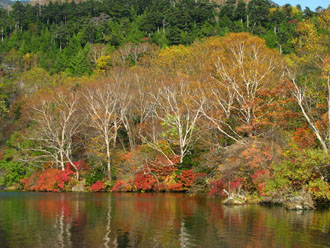 Another time we spent a night in Nikko, and then caught a bus up to about 1400 meters. From there we followed some hiking trails down to Lake Chuzenji - admiring the Fall colors, beautiful lakes, and impressive waterfalls along the way. Unfortunately, numerous locals also thought it would be a good weekend for leaf-peeping, and the area was crawling with cars and people. A normal 40-minute bus ride took us over 2 hours because of the traffic. We were probably a week or two early for the most striking Fall colors, but it was still great to walk in the crisp air and admire the changing leaves.
Other outings have included a day-trip to Yokohama, a visit to the National Museum, taking in a kabuki performance, seeing a couple of photo exhibits, and trying a handful of restaurants and bars new to us. The strangest bar was called ER & Alcatraz, and, as I'm sure you've guessed, was a theme bar. The Japanese love their theme restaurants/bars/hotels/parks. We were escorted to our table, which was inside a prison cell, by a woman in a nurse outfit. Other staff were dressed as doctors or interns. The strangest drinks we had were shots squirted into our mouths from syringes. Weird…wild…stuff.
On October 21st we're heading out to dinner to celebrate 2 years together (and 5 months until we say, "I do"), and then we're hitting a Cirque de Soleil performance on the 22nd. Unfortunately, I'm then flying back to work on the 24th. I wasn't due to start my rotation until November 5th, but events have transpired in such a way that it makes sense for me to start up a new job offshore Italy, so I'm heading down there a couple weeks early. My rotation should take me through December 17th, though there's a possibility we can finish the job before that time. Next break I'll be heading to Australia to spend Christmas with Rhona and her family, which I'm looking forward to, though something tells me it won't be a white Christmas.
And with that, you're up-to-date. I've also added 29 photos to the Japan album. They're found on page 15 of the album, or you can simply click the link below.