Dates Traveled: April-May 2008
Once again it's been awhile since I've posted, but this entry should be comparatively short - famous last words. I did just return from a long break of almost two months, but there were no penis gourds, there was no coughing up of blood, and there were no major events which require verbose descriptions.
As the vessel where I work was going to be doing a transit to the Canary Islands for a bit of work, and then heading over to the North Sea for the next project, I ended up jumping ship on March 24th and flying back to the States. I spent just over 2 weeks there - writing a final report, doing a bit of organizing, and catching up with family. From there I hopped a flight over to Japan to spend a month with Rhona.
Japan
As much as I dislike generalities, I suppose I should begin with some of the more common perceptions of Japan and her people. Efficiency…check. You can set your watch by the arrival times of the trains. And I don't think I ever encountered the lack of common sense surrounding anything in Japan - a normal source of my frustration in many other countries.
Yes, it's expensive - Japan is currently ranked the most expensive country in the world in which to live, and Tokyo is rated as the fourth most expensive city in the world. For the curious amongst you, the top three are Moscow, London, and Seoul.
Friendly people? To a fault. I found it refreshing to travel in a country where I didn't have to be on guard every waking hour…where I didn't feel I was continually being cheated and taken for a ride. On the downside, I had far less interaction in Japan than in most countries I've visited. Elsewhere people will initiate conversations out of curiosity, or in an attempt to sell me something, whereas the only time the Japanese would 'bother' me was when it appeared I needed help. What many travelers consider a nuisance - locals, especially kids, coming up and talking to them or trying to sell them something, I actually enjoy. It's my chance to pick the brain of someone who will tell me how things actually are in their country, instead of only learning what the Lonely Planet or the local tourist office thinks I may find interesting. I missed that interaction.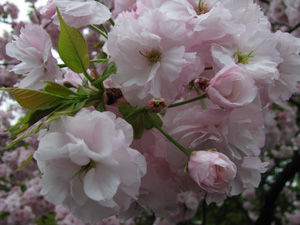 Yes, it's clean and beautiful. I spent most of my time in cities, but each had beautifully manicured parks where one could escape the bustle and noise of the city. You could feel yourself relax as soon as you crossed into some of the green areas. Actually, that's a bit of a misnomer, as the parks were also bursting with colors - pinks and yellows and reds and blues. I caught the tail-end of the cherry blossom season - most had finished their annual display, though I did catch enough trees in bloom to understand the fervor which greets the blossoms each spring. They were beautiful. I found myself taking far too many photos of the blossoms - and of flowers in general. When nature is presented as beautifully as it is in Japan, you feel compelled to capture that in a photo, no matter how much the photo pales in comparison.
Yes, they make the most of their space, but I would have preferred a bit more of it. You can ask Rhona how many times she had to watch my back so I didn't bump into things, or knock everything off the shelves when we went in stores. I'm not clumsy - honest, but I felt like the proverbial bull-in-a-China-closet in Japan. I was constantly running into something every time I turned around. Nothing seemed built for someone of my size.
I'm still coming to grips with all the 'rules' as well. Take for instance shoe etiquette. You're required to remove your shoes inside many buildings in Japan, including many restaurants, ryokans (traditional Japanese inns), and of course your home. Now I can understand not wearing shoes in buildings - no problem. However, like most things in Japan, there is a right and a wrong way to deal with this, and I seemed to always gravitate towards the latter. When you enter a building you'll typically walk in on one level, but around that will be a slightly elevated platform. You're to remove your shoes before stepping onto that platform - no worn shoes are allowed up there. However, you're not supposed to stand on the lower level in your socks. Therefore, the idea is that you gracefully step out of your shoes, leaving them at the lower level while proceeding onto the small platform. Ideally you will have done that backwards, such that your shoes are ready to be stepped down into when you leave. Sometimes you need to pick up your shoes and deposit them in a small locker or cubbyhole for that purpose. Next, you typically don a pair of slippers which have been provided - none of which come remotely close to fitting a US size 13 foot! At a ryokan you would then shuffle in your too-small slippers across the floor, maybe up the stairs, until you reach your room. You may slide open one door, but before you enter the main area of your room you have to remove your slippers. The rooms in a ryokan have floors made of tatami mats, and you don't stand on those in anything but socks or your bare feet. But wait - nature calls. You walk across the tatami mat, step into your slippers, and walk down the hall to the toilet. You then step out of your slippers and into a pair of bathroom slippers which are only worn in the toilet area. When you're done, you gracefully (uh, yeah, I'm still working on that part) slip out of the bathroom slippers, probably down a step, and into your rest-of-the-ryokan slippers, and pad back to your room. Whew!
Another 'rule' which I had a hard time obeying was eating while walking. That's what I do when I travel - I street graze. I pick up small edibles and munch on my way between sites, or simply while wandering aimlessly. I don't waste time sitting down to eat, and it's always cheaper than a sit-down meal. Wandering a city while gnawing on something is good. Unless you're in Japan, then it's bad…very bad. I'm told it's because they appreciate their food so much, and its presentation, that they wouldn't cheapen that experience by eating while walking. Of course all that is lost on a heathen such as myself, who only uses two classifications to describe what he's eating - edible and inedible. You're wasting your time trying to convince me of the subtle nuances of a dish. Anyway, I suppose not being able to eat while walking was good for my weight, as I'd simply wander around for hours without taking the time, or spending the money, to stop and eat.
Another 'rule', which I didn't think would be a problem - whistling after dark. The Japanese believe that act attracts thieves, snakes, or other unwanted attention. Now I don't think I whistle that often, but seemingly every time I'd break into a tune it was after dark and I'd get the 'uh-uh…we don't do that here' look from Rhona. Doh!
Tokyo
As Rhona had to put in her normal working hours, we spent most of our month in Tokyo. While she worked during the days, I typically went to explore the various parts of the city. After she was finished for the day we'd both go check out parts of Tokyo she hadn't had time to explore.
I spent hours checking out the myriad Buddhist temples and Shinto shrines. All were beautiful and well-kept, though I think that's where I had the problem. I was accustomed to Tibetan temples and monasteries - the smell of yak butter and unwashed pilgrims; large statues; colorful murals; and the devout aggressively touching everything with their hands or heads, while leaving small notes or white scarves as offerings. The Japanese temples and shrines, by contrast, were kept in pristine condition, and always seemed to keep the worshiper at a distance. Often the object of worship wasn't even on display, though I suppose you could argue that those prostrating to a hidden relic may be exhibiting even more trust and belief in their religion. Though I didn't enjoy the temples as much as those in Tibet, it's always interesting to see the variations a religion such as Buddhism takes on in different countries.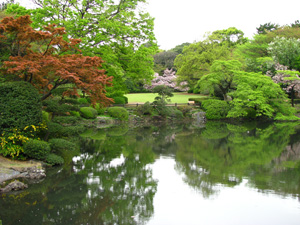 I also spent a lot of time in the aforementioned city gardens and parks. They were relaxing places to wile away an afternoon in beautifully landscaped surroundings. Some of my favorites were Ueno Park, which is within walking distance of Rhona's place, Hamarikyu Garden, Shinjuku Gyoen, and the Imperial Gardens.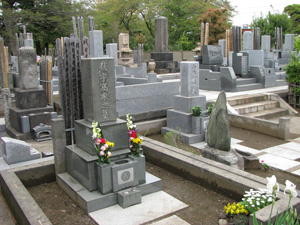 I wandered through several cemeteries as well, as in my travels I find myself curious as to how different cultures deal with death. The Japanese family graves often had large headstones, statuary, flowers, and long thin slats of wood with written scriptures propped behind the main stone. Most Japanese are cremated, and I just read on Wikipedia that the Japanese funerals are some of the most expensive in the world, ranging from US$15,000-$40,000. Some of that is because of the lack of space for new burial plots in Japan, though unfortunately a lot of it is because the Japanese are too nice to argue about a price - especially for the cremation and subsequent burial of a loved one. The deceased are also provided a new Buddhist name, such that they don't 'return' when their original name is called. The length and prestige of that Buddhist name is in relation to the amount the family of the deceased donates to the temple.
One day I got up early to catch trains to the outskirts of Tokyo for a bit of walking. I walked up a peak called Mt. Takao, and then up and over a few more peaks to Mt. Jimba. It was a nice 7-8 hours of walking, with a couple of hours train journey on either end, and a good way to spend the day - especially considering I was so close to Tokyo.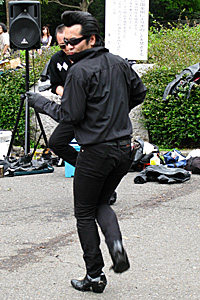 One Sunday afternoon we made our way to Yoyogi Park, where many of the more eccentric youth gather to out-duel each other for the attention of the curious masses. Some go about this simply by their unconventional dress. Others play in bands attempting to drown out neighboring bands. However, the stars of the 'show' have to be the rockabilly guys. These are typically older guys - probably late 30's+, who dress in black from head-to-toe. They sport slicked-back DA hairstyles, and continually run combs through to keep it just right, while dancing 50's-style to various rockabilly tunes. It's pretty entertaining.
One night we hit a local baseball game between the Tokyo Giants and the Yakult Swallows (another Tokyo team). I'd heard a lot about Japanese baseball, so was looking forward to the game. It was similar to those Stateside in that you tend to spend most of the evening drinking beer and eating, though sushi replaced nachos. Most entertaining was that each batter seemed to have a particular chant/cheer associated with him, and the crowd would stand and recite that each time he came to bat. Some involved slapping a couple of baseball-bat-noise-makers together, while others involved synchronizing your chant to one of the lead trumpet players in the crowd. The trumpet player in our section was a young girl in her teens, but everyone looked to her for the timing and to lead the cheers. There was also the polite Japanese factor involved, in that when one team was up, the opposing fans tended to sit and not disrupt the chants/cheers of the other team. It was great. I decided I better have a jersey, and opted on a guy with the most Japanese sounding name - Takahashi. He was batting cleanup so must be relatively good, though didn't do much that night. We popped down to the concourse and visited a couple of the small kiosks, only to discover that they didn't have any jerseys to fit me - everything was Japanese size. Disappointed.
In the evenings Rhona and I wandered various areas of town for places to eat, and to simply see what was happening. One night we ended up near Shinjuku Station down a narrow street known as Piss Alley. The area was crammed with small eateries, each seating 5-10 people. The food was typically skewers which were cooked right in front of you. Great fun, and good food. From there we wandered the red-light district of Tokyo, though you're hard-pressed to actually recognize it as such. It has none of the seedy feel that you experience in other cities. Add to that the fact that Japanese women in general wear extremely short skirts, even for school or work, and it was hard to know when you'd ventured from a normal street to a 'seedy' one. Easier to spot was the 'host' area, where guys - seemingly all dressed the same and with the same barber, loitered on street corners trying to attract female clientele. Walking on we ventured into the area known as the Golden Gai. This was an area of 4 or 5 short streets with wall-to-wall bars. Each building typically had two bars - one downstairs, another upstairs. Some had their doors closed as they don't welcome outsiders - especially foreigners. However, on various occasions we wandered into a few known to be foreigner-friendly and had a good time. Like everything in Japan, these were tiny places - seating maybe 10 people at the most, though 4-5 is more comfortable. A nice place for a night out.
Another night Rhona took me to an area of town known for monja, which is a dish she said looked like puke - how could I resist? Maybe it's a good thing I'm not too fussy about food! We actually went on the last Sunday of a major week-long holiday, so each of the many restaurants had long lines out front. We decided to kill time by popping into a small bar. We'd had our first drink, and Rhona had ordered her second. I asked the bartender if he made any signature drinks I could try. He looked at me slyly and told me to wait a minute. He soon pulled out a plastic water bottle and proceeded to fill my glass. He went on about how it's a special drink, how a friend of his does business in Nepal, and this was a Nepalese drink. At that point I asked, "Is it rakshi?". His jaw dropped and he asked how I knew. I told him I'd drank it often in Nepal. I don't know who was more surprised - he that I'd not only heard of the drink, but had had it before, or me that I was able to get Nepalese rakshi in Tokyo! Small world.
After a few more drinks we ventured back out to get the monja. A monja restaurant has tables with built-in grills. You order your variety of monja - squid, beef, etc., and it's brought to you in a bowl with vegetables and a runny sauce. The large chunks are plopped onto the grill to cook. You then make a circular wall of the big chunks and pour the runny sauce in the center. Everything is then mixed together, spread flat, and eaten directly from the grill. It does look like puke, but it was obviously good since we had 4 or 5 of them that night. After dinner we ventured back into the bar for a nightcap before we caught the last train home, and the bartender greeted us with a simple, "Welcome home". We'll be back there again…
Closer to Rhona's apartment we have a genuine Swiss chalet which serves up a mean fondue, as well as some nice breads and cakes. We've come to think of it as 'our' place. Also close to her home is a fugu restaurant. Fugu is the Japanese pufferfish which is poisonous if prepared incorrectly. This from Wikipedia:
Fugu contains lethal amounts of the poison tetrodotoxin in the internal organs, especially the liver and ovaries, and also the skin. Therefore, only specially licensed chefs are allowed to prepare and sell fugu to the public, and the consumption of the liver and ovaries is forbidden. However, a number of people die every year from consuming improperly prepared fugu. The poison, a sodium channel blocker, paralyzes the muscles while the victim stays fully conscious, and eventually dies from asphyxiation. There is currently no antidote, and the standard medical approach is to try to support the respiratory and circulatory system until the effect of the poison wears off. It is alleged that non-lethal quantities of the poison remain in the flesh of the fish and give a special desired tingling sensation on the tongue, which leads to the fingers.
If I've eaten something resembling puke, you know I'm going for the fugu, even though I'm not a big fan of fish. This particular restaurant has the live, ugly fish swimming in a tank visible from the street. Inside we ordered our meal and then continued talking over drinks while our table was prepared. Once again we'd be cooking the meal ourselves, this time in a boiling broth. While talking, the main course was brought out, and we both stopped mid-conversation. The heaping plate of hacked up pufferfish was still twitching! Now that's fresh! After writing our wills on our napkins (or not) we dug in to…nothing special. In fact, it wasn't even very tasty fish. We also had some of the skin, as well as some sashimi, but there was nothing spectacular about the meal. I suppose when talking about fugu that's a good thing, but I would have at least liked to have had some tingling lips or something…
Kamakura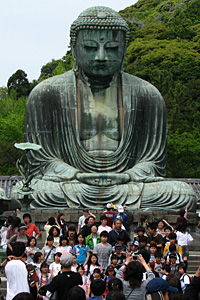 Our first Sunday together we made our way to Kamakura, which is about an hour by train from Tokyo. From the late 12th to early 14th centuries Kamakura was essentially the capital of Japan, as the seat of the powerful Shogunate. It was the first time in history a Shogun held power over all of Japan.
Kamakura is known for its many beautiful temples and shrines. We spent a bit of time wandering around some of those, though we quickly headed to a particular temple where we learned they were to have an archery contest. We joined the throngs of people lining a narrow path. Soon, 5-7 guys in period costume and riding horses galloped past and attempted to shoot targets with their blunt-tipped arrows. They made several successive passes while the crowd looked on and voiced their approval. To conclude, the riders proceeded to a temple for a short ceremony. It was entertaining to watch.
I returned to Kamakura on my own in the middle of the week to do the short walk from some of the main temples to the Great Buddha. Most interesting along the hike was a shrine where people wash their money in a spring in the hopes that they'll become more prosperous.
I really enjoyed Kamakura, as I walked much of the area getting from one temple to the next. There are some beautiful temples and shrines, the Great Buddha is, well, large, and the small town itself had some interesting shops, though it's touristy. All in all it's a nice day out of from Tokyo.
Nagano
One Friday evening, after meeting another ex-Intrepid leader for a few drinks in Tokyo, Rhona and I hopped a train for the 2-hour trip to Nagano. The following day we woke early and headed up to the main temple to see what was happening. There were a lot of people in town to witness the running of the Olympic Torch. Everywhere you looked you saw beautiful Tibetan flags, large Chinese flags, and various signs. There was a continual war of chants - "Free Tibet"…."One China". We borrowed a large flag from some Tibetans and joined the fray. We discovered that the Chinese government had arranged for 3 bus loads of students to be brought in from other cities to show a large Chinese, and anti-Tibetan, presence. They were obnoxious - using their flag to knock Tibetan flags out of the way, and pushing and shoving Tibetan supporters. Most scary was their ignorance. One would hope that young Chinese students outside of China would lose some of the brainwashing. That they'd read less biased news and start to see the world, and their country, for the way it is. That they'd lose their idealistic Chinese impressions. That they'd start to acknowledge that maybe their government isn't always in the right. Suffice it to say that hasn't happened.
We were asked on more than one occasion why we were there supporting Tibet. The assumption was that we were blindly supporting something we knew nothing about simply because it was fashionable to do so, and because it was anti-Chinese. They had no intelligent retort when I said that I'd spent the better part of 3 years in Tibet and knew a lot about it, and that Rhona and I have no doubt seen more of China than any of them have seen. That we've lived in the area, and that in fact we do know a lot of the history, the way of living, and can see how the government manipulates everyone. At that point they simply tuned us out, became belligerent, and wouldn't let us get a word in against them.
Had they let me do so I could have asked them the same question - why were they there? They certainly didn't know anything about Tibet, even though it was the main crux of their anger. They'd never been there. They were simply in attendance because their government told them to be, and they spouted the same rhetoric you hear from the government. They were there because of blind nationalism, and I find that scary in any nation.
Other than seeing the torch we didn't do much during our one full day in Nagano. We spent the afternoon visiting the beautiful Zenko-ji Buddhist temple, and wandering the town, before buying some wine and snacks and having a picnic dinner in our room - safely hidden from the continual rain.
Matsumoto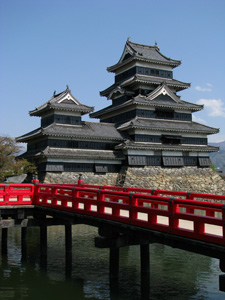 The following day we took a train to Matsumoto, and after finding a place to stay in a traditional ryokan, we set out to explore the city. Our first stop was the impressive castle. It's now considered one of the 4 most important castles remaining in Japan, and it was interesting to wander through to see the construction and some of the weaponry. The beautiful castle, the surrounding water, and the blue sky were too much to ignore, and I took far too many photos that afternoon.
From the castle we found our way to Kaichi School, which was the first junior high school of Japan. It had actually been moved to its present location to save it from rising flood waters. It's now beautifully restored and an interesting look into Japanese education from years gone by.
Our next stop wasn't found on any tourist map. On our way to the castle we'd walked by a beautiful old building wedged between two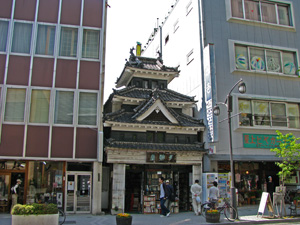 modern high-rises. On our return we had to pop in to see what the building held, and we stepped into another time. It was a bookstore, with dusty books on shelves, stacked on floors, piled on tables, and thrown into any available space. There was barely room to walk. And the books were old. I'm not talking old like from the 1970's and 80's - I'm talking old like 1700's! There were also old paintings, postcards, train ticket stubs from the early 1900's, coins, and textbooks. I imagine anyone studying Japanese history (and able to read Japanese) would have a field day in that shop - it was incredible. We went in a few times, and actually bought quite a few items. We rummaged through an old tin and found some coins, we bought some paintings, and several books - dictionaries from the 1700's and 1800's, a book on the family lineage of samurais from the 1860's, a 150-year old Shinto prayer book, and a calendar from 1891. Of course we can't read much of what we have, but just the age and appearance of the books makes them worthwhile. Expecting to pay top-dollar for such treasures the first time we browsed the shop, we were shocked to hear that the kind old man was offering a 70% discount! We spent a long time in his shop (on a few occasions), showed interest in the amazing array of relics, and spent a good bit of time talking to him. He seemed to like us, and actually discounted our purchases more than the 70%. Incredible.
We really enjoyed Matsumoto for the kind people, the laid-back atmosphere, and the nice little roads for walking and browsing shops. And of course the bookstore was the most amazing I've ever seen.
Nikko

My last weekend in Japan we caught the 2-hour train to Nikko, known for its Unesco World Heritage temples and shrines - one of which dates back to 767. Though rainy and foggy at that higher elevation, we enjoyed wandering around the grounds. Tosho-gu shrine was an especially impressive complex, with very ornate buildings. It houses the mausoleum of the founder of the last Shogunate of Japan, along with that of his grandson. One of the buildings also exhibits the first known pictorial representation of the wise monkeys, in their now-famous poses illustrating "see no evil, hear no evil, speak no evil".
From the temples and shrines we caught the bus higher to Lake Chuzenji and some waterfalls. Unfortunately, the fog all but obliterated the view, and the cold kept us indoors for much of the time.
I enjoyed Nikko. Due to other commitments we were pressed for time, making it impossible to do a hike that Rhona had done previously, but I still got a feel for what Nikko had to offer. It would be nice to go back sometime when I can spend longer.
And Then I Was Gone
There are actually quite a few items still on my list of things to do in Tokyo, including sleep in a capsule hotel, attend kabuki, visit the Tsukiji fish market early one morning, and see a sumo match. However, I'll be back over my next several breaks so can tick off those items, as well as wander farther from Tokyo to see what else Japan has to offer.
From Japan I returned to the States for a quick week before hopping flights for Norway. I'm currently working in the North Sea, and will be until July 2nd. I'll crew change on the west coast of Norway in Kristiansund, and will spend 12 days making my way to Oslo via some of the regions known for their fjords. I'm looking forward to that. Unfortunately, I won't have time to take the Hurtigruten ship up the coast of Norway to Tromso, so I'll just have to return and do that some other time.
From Oslo I'll fly back to Japan. Next break Rhona has managed to get a 2-week vacation, so she has an itinerary for us to go explore and hike other regions of Japan. She'll then spend a few days working from Kyoto so I can explore the city alone during the day, and we can head out together each night. I've always wanted to visit Kyoto, so I'm looking forward to seeing what the city has to offer.
That's it from my end. Since Japan is considered the most expensive country in the world, and Norway is number 5 on that list, I better get back to work so I can pay for my next break!
And if you've learned nothing else from this post, it's this…never believe me when I say an entry is going to be 'comparatively short'!
Hope all is going well in your part of the world, and I'll catch you from somewhere down the road.
I've also added 158 photos from my time in Japan. Click on the following link to check them out.