Dates Traveled: September 2007
We caught a bus from Puno to Copacabana, on the Bolivian side of Lake Titicaca. We had grand plans of doing a hike, and also visiting the Isla del Sol. However, as we had been on the go for over 3 weeks, and our time together was rapidly coming to an end, we decided to simply spend 2 days relaxing. We wiled away the hours eating good food - including chocolate fondue for breakfast, and watching movies that the guesthouse had available.
La Paz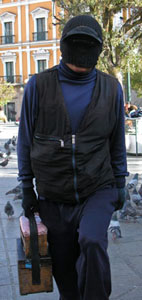 The bus ride from Copacabana was scenic as the road wound its way along the shore of Lake Titicaca. At one point we descended a hill and entered a small village where the bus came to a stop. At first I thought we were stopping for breakfast, but then I noticed there was no road in front of the bus. We bought tickets and boarded a small boat which took us across the inlet, while the bus drove onto a rickety wooden ferry. I was happy to be off the bus as it made it's unstable journey to the other side, where we once again boarded and continued our trip to La Paz.
We spent the rest of the day wandering around La Paz - climbing to a higher point to get an overview of the city, and visiting various plazas to watch the locals. Some of the most entertaining are the shoe-shine boys, who tend to wear gloves and ski masks - they look like thieves. The following day we set out walking again - this time exploring various markets. Several stalls in the so-called Witches Market sold shriveled llama fetuses. Evidently locals bury them under the porch of their new home to ensure good luck and fortune. Somehow I don't believe the llama fetus will be replacing our trusty rabbits-foot anytime soon…call me crazy!
We parted ways that evening, as Rhona had to fly back to Japan for work, while I still had another week-and-a-half to travel.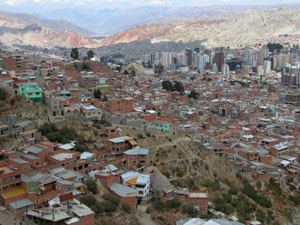 I spent the following day organizing my onward travel before climbing up to a high point on the rim of La Paz. La Paz sits at an elevation of 3600 meters (just under 12,000 feet), but actually sprawls along the valley and walls of a canyon. While taking Rhona to the airport the night before we climbed out of that valley and saw the beautiful, snowy peaks surrounding La Paz - including Mt. Illimani at 6402 meters (21,000 feet). Which explains why I set out to reach a high point - I wanted to see the mountains again. La Paz is a great city for walking, but it's far from easy as one deals with the altitude and numerous hills. Therefore, I was quite disappointed when I huffed and puffed my way to what I thought would be a spectacular vantage point, only to discover that the clouds were too low in the sky and I couldn't actually see any of the mountains. Still, it provided a great overview of La Paz, and gave me some exercise, so it wasn't a complete loss.
Uyuni Salt Plain
Late on September 1st I caught the 10-hour overnight bus to Uyuni, where I was immediately accosted by touts pushing their salt plains trips. The area around Uyuni,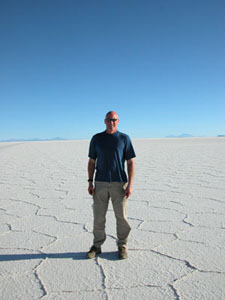 known as the Salar de Uyuni, is the world's largest salt flat, covering an area of 12,000 square kilometers (just over 4600 square miles). Seemingly every local in town is now a tour operator, and many of them wait at the bus station for their prey. A quick glance around town told me there was really no reason to stick around, so even though I'd been up for 24 hours I booked myself onto a 4-day tour leaving in a couple of hours.
There were 6 of us in total…a German couple, a French couple, a Kurdish-Swede, and me, plus a driver/guide and a cook. We piled into our LandCruiser and headed out of town. The first stop was the Cemetary of Trains - a graveyard of rusting train engines. We then went to a place which showed how the salt went from the salt plain to a plastic bag for sale - much of the work done by hand. The remainder of the day was spent driving across the salt plain. With my northern US upbringing, when I see white I think snow/ice, and so I expect the back of my vehicle to try to pass the front of my vehicle if I'm driving too fast. I had to keep reminding myself, as we sped across miles of white, that all of it was salt. It was vast. We deviated a bit from the standard route to see Tunupa Volcano. We drove part-way up the flank which provided us with a better perspective on the enormity of the salt plains - it was an ocean of salt as far as the eye could see, with occasional islands of rocky outcrops. We took our lunch at the foot of the volcano in a salt hotel - each wall, the furniture…everything, was made from blocks of salt. We next proceeded to one of the islands - Isla Pescado, which was a rocky outcrop covered in tall saguaro cactus. It was a beautiful vantage point in the setting sun.
The next day was a bit of a wash - we set out and managed to see some caves in the morning. However, around the lunch break we had problems with our LandCruiser and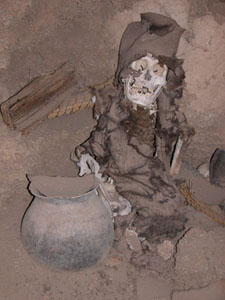 had to backtrack to a small town, where we spent the rest of the day while another LandCruiser was brought out from Uyuni. We did see the 'cemetery' just outside of town, where one came face-to-face with mummies, bones, and offerings which had been deposited in hollowed-out coral outcrops. Like the previous night at a similar elevation, it got a bit chilly when the sun went down.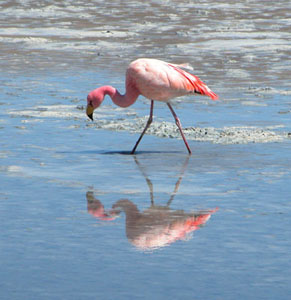 The third day was long and varied. We visited areas with strangely sculpted rocks, stopped to photograph numerous flamingos on the lagoons, admired Laguna Colorada (Red Lake) and Laguna Verde (Green Lake), and stepped gingerly around the geyser basin. The latter was an area of steam vents and mud pots situated at just under 5000 meters (16,400 feet). Unlike Yellowstone earlier in the trip, one could walk right up to the bubbling, super-heated pits in Bolivia. While walking around I simply switched off the practical side of my brain screaming that what I was doing wasn't safe - that the ground would collapse and I'd become the main ingredient in a stew. Come to think of it, that side of my brain tends to get switched off a lot when I'm traveling…
After a chilly night spent at 4600 meters we awoke to llamas right outside our guesthouse. We had actually been seeing them everywhere in Bolivia, but here they were nosing around and actually nudging the door open and entering the cooking area. Entertaining. That last day we made a few more stops - including the Valley of Rocks where the French guy and I set about climbing up on various pinnacles of stones. Good fun. We rolled back into Uyuni late in the day
The trip was excellent - the group got along really well, and we saw a variety of natural wonders, all for the bargain price of about US$25/day. That included the driver, accommodation, and all meals. It's well worth doing if you find yourself in the southwest of Bolivia.
Potosi
I spent one night in Uyuni before catching the morning bus to Potosi, which took 5 hours. I spent the day simply wandering around and booking a tour for the following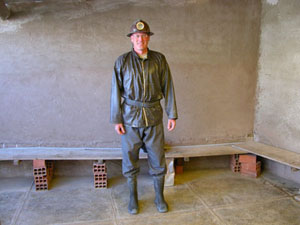 morning. Potosi claims to be the world's highest city, perched at 4060 meters (13,300 feet). It was an interesting little town with a few nice plazas, but I'd gone there specifically to spend time below ground, not above it, so the next morning I met 4 other people and a guide and we headed out. The first stop was a place to change into protective pants and jacket, rubber boots, and miners helmet. Why? On the outskirts of Potosi is Cerro Rico - Rich Hill. Potosi was founded in 1545 after the discovery of silver in the surrounding mountains, and by the end of the 18th century Potosi was the largest and wealthiest city in Latin America. Silver from Potosi helped bank the Spanish economy for over 2 centuries. Indigenous locals and African slave laborers worked the mines in appalling conditions, and many died. Though the silver has mostly played out, thousands of miners still work over 400 mines on the hill - they still do most everything by hand, and they still work in appalling conditions. Exposed to numerous noxious chemicals, some die of silicosis pneumonia within 10 years of entering the mines. Others are more 'lucky' - working the mines for 30-40 years.
After changing we stopped off at the miners market to buy some gifts for those we'd be seeing. What do you buy a miner? Alcohol, soft drinks, coca leaves, and dynamite. The going rate for a stick of dynamite and primer cord was about US$2. As for the coca leaves the miners, like many locals in the Andean region, chew the leaves to reduce fatigue, hunger, cold, and the effects of altitude. Everyone we saw had a large wad in their cheek - some of us followed suit. After the market it was time to drive up the hill and enter the mine.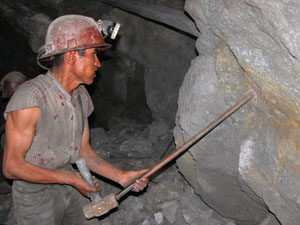 Practical side of brain…click…now off. We entered a mountain that would be deemed far from safe in other countries. First of all, our guide said there were 20,000 miners working in the mountain. That number seemed high, but whatever the number there were a lot of mines and miners, and no real overall plan for the mountain stating where you could or couldn't dig. Obviously that results in cave-ins and deaths. How do the Bolivians come to grips with the dangers? By worshiping Tio, the devil who rules the underground - our first stop. After making offerings of alcohol and coca leaves to the statue of Tio we proceeded farther into the mountain. Crouched over, sometimes crawling, we progressed through the darkness, finally emerging in a room where a couple of miners were busy drilling a hole for a dynamite charge. They were doing it with a long iron bar and a sledge hammer, and expected to take the entire day to drill the one hole. We passed around an alcoholic concoction while talking to the miners, though the other 4 only tried it once. I seemed to drink whenever it was passed my way - I'd had similar in other countries, and it seemed disrespectful to the miners somehow to turn it down. One of the guys had been working the mines for 29 years - he was 43. An incredibly tough life.
We crawled and descended through two lower levels - in one place on a very rickety ladder. In a few places there were large holes directly next to the path - looking down I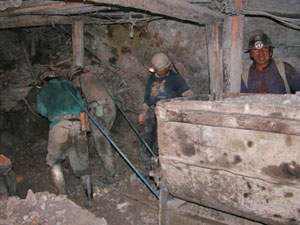 couldn't see the bottom. A wrong step there and they'd be writing your obituary…"Cause of death - extreme deceleration" Splat! Occasionally we'd have to scurry out of the way as a loaded ore cart came by. At one point we were sitting in a room watching a couple of guys shovel rock into a large rubber container. A rope was then attached and the load was winched up, only to be repeated. I wasn't sure where the rock was coming from until we heard noise and voices coming our way. Two guys had ropes over their shoulders and were pulling a loaded ore cart, with two guys behind pushing. They tipped the cart to dump the load, then headed back for another. That's one thing that struck me - each time we encountered miners they seemed in a hurry to continue their work. As soon as we were out of the way they'd rush past us and get on with whatever they were doing. Some miners didn't have the luxury of the ore cart, so they loaded bags full of material, slung it on their back, and trudged up to the mine entrance to dump the load.
The temperature in the mine was hot - I was sweating. There was also dust everywhere, making it difficult to breathe. We were only in the mine for about 2 1/2 hours but I could feel the stress on my lungs when we re-emerged above ground. I can't imagine doing that every day, typically for 12 hours/day, for the rest of my life. I also discovered I'm far too tall to be a Bolivian miner, as the shafts are quite small. Overall it was a fascinating glimpse into their daily lives.
Rio Bound
From Potosi I took a short 3-hour bus to Sucre, where I spent a night. Waking up in Sucre was the beginning of another long 'day' - I wandered around town before catching a 15-hour overnight bus to Santa Cruz. Once in Santa Cruz I cat-napped for two hours, but basically hung out awaiting my flight which left at 5 AM the following morning. I caught a cab at 2:30 AM, and it was great. The steering wheel was on the left-hand side of the car, but all the gauges - speed, fuel, odometer, etc., were on the dashboard in front of me on the right-hand side of the car. Hilarious. From Santa Cruz I flew to Sao Paulo, where I had a longer layover due to a delayed flight. Most interesting there was the fact that I had to go through the international gate in order to board a flight going from one Brazilian city to another - Rio. Once in Rio I met a driver and was taken to my hotel, ready for crew change. By the time my head hit the pillow that night I'd only slept 2 hours in the previous 63. I slept well.
I had one free day in Rio before crew change but I simply hung out in my room and got caught up on sleep and e-mail messages. I did try to exchange my leftover Bolivianos, only to discover that nobody in Brazil will exchange Bolivian currency. You'd think I'd learn. I had the same problem in the 90's with Lao Kip - I couldn't exchange them in Vietnam, Singapore, Thailand, or the US. I had to hold onto them until I returned in 2002. Looks like I'll be back to Bolivia…

Actually, I do want to return. I wanted to cycle down the "world's most dangerous road", do some treks, and climb a few mountains, but didn't have the time. I had also wanted to spend time in the region where Che Guevara was captured and killed. Next time…
Bolivia Is…
Vast salt plains
Llamas
Altitude
Miners working in appalling conditions
Rough roads