Dates Traveled: August 2007
(I'd also traveled here in June 1998, but that trip is without details)
Our flight had us hopping from Denver, to Dallas, to Miami, and finally to Lima, Peru. We arrived at 4:20 AM on August 15th, where we immediately caught a taxi to the bus station for our 7:00 AM departure for Nazca. The bus journey was 6 1/2 hours and passed through Pisco and Ica, before arriving in Nazca in the early afternoon. We'd been up for 29 hours but decided since we were only spending one night in Nazca, that we really couldn't afford to sleep. That also ruled out taking showers, as while one person was showering the other would have no doubt passed out on the bed. Nope - the best plan was to simply drop our bags and go explore. Turns out maybe that wasn't the best plan, but of course we couldn't have known that at the time…
Nazca
We wandered around the small town a bit, sat in a park watching people, and then popped into a restaurant to eat, drink, and kill time. We next headed across the street to a hotel which held nightly talks about the stars, as well as the Nazca Lines which we were due to fly over the following morning. We were sitting in the lobby waiting for the talk to begin when everything started shaking and the power went out. Earthquake! We quickly found an archway and stood there for protection - soon joined by two Peruvian women who worked at the hotel. We stood in a group embrace - the Peruvians muttering prayers in Spanish, while the earth shook violently for 2 1/2 minutes. It was by far the largest earthquake I've experienced. When it was over there was chaos in the streets. It was pitch dark, and people were running through the town trying to get home to loved ones. In the main square people were flagging down anything that moved and cramming as many people inside as possible. We wandered back to our hotel, only to be told that it probably wasn't safe to be there as they expected aftershocks, so we once again took to the streets to witness the aftermath. From what we could see - later confirmed, there wasn't much damage in Nazca. It shook things off of walls, but did minimal damage to the buildings. Pisco, which we'd passed through earlier in the day, wasn't as lucky. Located approximately 200 kms (120 miles) to the northwest of Nazca, it was to bear the brunt of the magnitude 8.0 earthquake. Over 500 people were killed, and 80% of the town was destroyed. There were several aftershocks felt during the next few days which measured over 5 on the Richter Scale.
We headed back to our hotel, where the owner had set out a bottle of rum to soothe shattered nerves. Seven of us sat around talking - always prepared to sprint to the street should we feel another aftershock. We finally called it a day, 38 eventful hours after the day had begun. We were woken at 1 AM by a strong aftershock, and I was on the toilet at 6 the following morning for another one, but they were relatively minor compared to the original quake.
The following morning we were still without power and water, so no showers for us before being driven to a small airstrip for our flight over the lines, which, to our surprise, was still going to happen. We first watched an introductory movie regarding the Nazca Lines. The lines were created between 200 BC and 700 AD, and were formed by removing the darker surface stones to reveal the lighter material beneath. There are hundreds of designs, ranging from straight lines and arrows to intricate depictions of monkeys, hummingbirds, whales, spacemen, and condors. The area encompassing the lines is nearly 500 square kilometers (200 square miles), and the largest figures can be nearly 900 feet (270 meters) long. As the lines can only be seen from the air, there has been widespread speculation as to the motivation of the builders. One of the more recent theories involves religion, gods, and the availability of water for crops. However, we may never know the true meaning of these designs in the desert.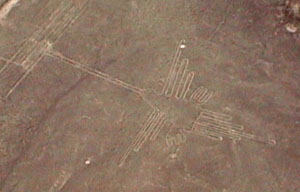 Five of us were met by our pilot, given a brief overview, led to our small airplane, strapped in, and away we went. The flight was to be short - only about 45 minutes, and we had a lot of ground to cover. We also quickly realized that it wouldn't be your standard cross-country hop in a 777. As we'd approach one of the designs the pilot would dip the wing such that those on that side of the plane could see and snap their photos. He'd then abruptly dip the other direction so those on the opposite side had their chance. Hmmm - so that explains those little bags in the seat pockets. Rhona and I managed to keep everything down, but the same can't be said for 2 others. But the 'Vomit Comet' stops for no one, and so we dipped and puked our way from one geoglyph to the next. It all seemed a bit frantic - trying to actually see the design, as some were quite faint, while also trying to shoot them for posterity. I opted to shoot video, while Rhona manned the camera. I can't speak for her, but I know sometimes I simply pointed in the general direction and hoped I got something. The land below us was an impressive sight, and unlike anything I've seen before - definitely worthy of its World Heritage listing. We flew over several lines, a whale, triangles, an astronaut or spaceman, monkey, dog, condor, spider, hummingbird, alcatraz, parrot, hands, and a tree, before returning to our small airstrip. It was an amazing morning.
Cuzco
We originally planned on catching an 8 PM bus for the 14-hour trip to Cuzco. However, buses from that company weren't making it through from Lima due to the earthquake. We finally found another company which had a bus departing at midnight. We wandered around town a bit more that day, and also took in the talk which we were trying to attend the previous night when the earthquake hit. At 11 PM we were in the office of the bus station, along with about 20 others. Buses came and went, and a few people were allowed to board, but we were always told that the bus wasn't ours. This went on for hours until finally we all tried to sleep in the tiny, cold room. Shortly before 4 AM the woman working there woke us all with a start, yelling, "Go, go, go". We grabbed our packs and rushed outside to…a taxi. Huh? It seemed that taxis were taking us across town to board the bus headed to Cuzco. Or so we thought. In actuality, the bus was only going about 4-5 hours down the road, where it unceremoniously dumped us in a small town. After a few inquiries it became apparent that the bus company had no idea we were coming, and had no possibility of getting us a bus to Cuzco, so we took matters into our own hands. Something like eighteen of us hired a couple of mini-vans for an 8-hour journey to another small town, where we were told there would be several buses to Cuzco. Arriving around 6 PM we found that to be true, but none of the buses would be leaving until 11 PM! We'd become numb to the entire experience by this point, so we simply bought tickets and waited. At 11 we hopped the bus for the final 4 plus hours to Cuzco, finally getting to bed at 4 AM. Another long 'day' of 42 hours. We slept for a few hours, but unfortunately had to check out of that hotel by 11 as they had no rooms for the night. However, first we took a much-needed shower - our first since leaving Denver 4 days prior. Ahhhhhh.
Cuzco is actually a great town. Last time I was there I likened it to Kathmandu, Nepal - both serving as gateway cities into amazing activities and sights in their respective regions. In the case of Cuzco, it's the hub from where everyone sets out to see Machu Picchu. We spent a few days recovering, adjusting to the altitude, seeing the town, and finalizing plans for our trek. We spent time in the central park, checked out the two churches bordering the main square, stood in awe of the intricate stonework of the ancient Inca empire, and simply wandered the streets.
We also took in a few of the local delicacies. I ordered the alpaca steak, while Rhona ordered the guinea pig - assuming that it was going to be diced up and unrecognizable. When the waiter carried the cooked guinea pig out to the table so we could take photos, it looked like a charred version of her childhood pet. From the look on her face I was pretty sure that I was now eating guinea pig. Confirmed. What was worse was that while I was eating a head and tiny feet, she had the nerve to tell me that the alpaca steak - which I had ordered - was really good! Actually, it was. The guinea pig had a bit of a strange taste, though I enjoyed the skin. Anyway, I've eaten that, but probably won't go down that road again.
Pisac
On Sunday we hopped a local bus for the short trip to Pisac, as it was the town's main market day. I'd attended the market 9 years previously and was looking forward to returning. We arrived early so as to beat the tourist throngs. Unfortunately, the market has turned into a beast catering mostly to the tourists, and so we also beat the shop owners. There were a few early-risers - those selling flowers and vegetables to the locals being most notable. However, most lazily assembled their shop and slowly put their wares out on display, safe in the knowledge that the bulk of the tourists wouldn't arrive until 10 AM. I love Peru for the color, and at no time is that more evident than on a market day. Hats, shawls, blankets, dolls - everything was bursting with color. While in Pisac we also did a 5-hour round-trip hike up the hill overlooking Pisac to visit the ancient Inca ruins.
Lares Trek
The following day we met up with our guide, cook, horse-men, and two other trekkers from Sweden. We had wanted to hike the 4-day Inca Trail,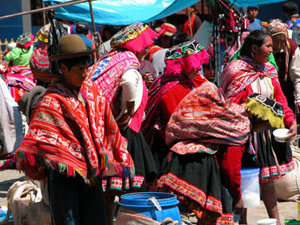 finishing at Machu Picchu. When I did the trek back in '98 I simply met two Aussie guys in a bar the night before and we decided to do it on our own. At that time the permit cost something like $15, and you didn't need a guide or to go with a group. Much has changed. You're now required to go with a guided group, and the entrance price has jumped five-fold. They've also limited to 500 the number of people that can hike the trail per day. With about 200 of those being porters, that only leaves 300 permits for trekkers. During the busy season the permits disappear quickly, as I was to discover while trying to book the trek back in May. "Sorry sir - all permits have been booked until September 1st." Which explains why we were setting off on the Lares Trek and not the Inca Trail trek.
We left Cuzco early for our 4-hour drive to Lares, where we encountered many locals in the colorful attire of the region. We spent an hour wandering around the main square - taking photos and enjoying the scene, before heading out of town for lunch and the start of our trek. The first day was an easy trek of 3 hours to a campsite near a lagoon. It was beautiful with the mountains all around. The money you pay for a trek in Peru actually gets you a high degree of comfort - someone set up our tent for us, there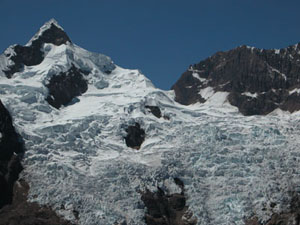 was a toilet tent (which simply enclosed a hole dug in the ground), and a cooking/eating tent. Guys would bring washing water to our tent, followed closely by hot water for tea. There were horses to carry the bulk of our gear, and a guide to explain everything along the way. The meals were excellent and filling. The cost also included our entrance to Machu Picchu, our trains to and from, and the bus up to the ruins. Five-star for under $100/day
We woke up to a bit of snow on the ground and a crisp, clear morning. After breakfast we set out for the long day of the trek - about 8 or 9 hours. Right out of the gate was the climb to the 4700 meter (15,400 foot) pass. We had beautiful views from the top - including directly across to a rugged mountain and glacier. We took many breaks that day - for photos, to relax, and to simply appreciate everything. It was a great day of trekking.
The last day of the trek was a short 3 hours down to the road. We jumped in our van and headed to the town of Ollantaytambo, where we climbed up to the ruins, wandered the narrow streets of the town, and ate lunch. We next caught our train for the journey to Aguas Calientes, which now seems to be known as Machu Picchu City. In our carriage there was a Japanese tour group. We'd all been given a sandwich, drink, and small piece of cake for our meal. We made one stop at a small village along the way, and the next thing I know 8-10 sandwiches are flying out the window! It seems the Japanese tour leader told his group that if they didn't want the food, to throw it out on the tracks for the young kids greeting the train. "Uh..hello…not exactly promoting safe practices there, bud." Some young kid is going to get hurt racing for a train in the hopes that someone will throw out a bit of food. It always amazes me how people can think they're doing something good for the less fortunate, but in fact are actually making things dangerous for them - or simply turning them into beggars. A few of the group, not satisfied with only providing a main meal, decided to chuck the cake out the window as well - still wrapped in cellophane around the small plate. "No, that's fine, I'm sure the train company didn't want those plates back." An Italian family wasn't having any of that - they wanted their cakes - and plates - and so stuffed 4 of them into one of their backpacks. I thought we were going to see them go through a window after the cakes thrown on the tracks! Some people's kids…
Machu Picchu
The following morning we were up before 5 AM - walking the streets towards a bus stop for the transport to the ruins of Machu Picchu. I couldn't believe the number of people waiting - it was crazy! When I was in Peru in '98 I trekked to Machu Picchu. It was beautiful at sunrise as we had it to ourselves until about 10:30, when tour groups seemed to arrive. At that time Aguas Calientes was just a dirty little town. Now, I was waiting in a line with hundreds of others. I counted about 20 brand new buses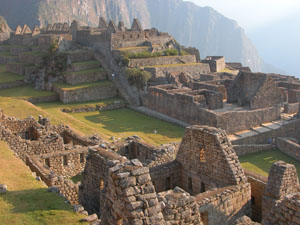 that were transporting people up the hill - 40 at a time. Insane! We arrived shortly after the 6 AM opening and climbed up to the highest point - the caretakers hut. It's from this vantage point that the classic photo of Machu Picchu is taken - and everybody and their dog was up there to get just that shot at sunrise. We spent the next 2 hours being guided through the ruins - learning that the heavily overgrown Machu Picchu had only been rediscovered in 1911 by Hiram Bingham. Scholars are still undecided as to the history and purpose of Machu Picchu.
Machu Picchu is impressive, and rightly deserving of its recent inclusion in the list of the New 7 Wonders of the World. Though it no longer sits atop my list of the most incredible places I've seen - that honor now goes to the ruins of Angkor in Cambodia, it's absolutely stunning. We were fortunate enough to have a late train back to Cuzco, so we could spend 8 or 9 hours wandering around - marveling at the stonework and exploring more of the out-of-the-way corners. It was a perfect day spent exploring. In the afternoon we caught a bus back down the hill, and later that evening rode the train back to Cuzco.
Saqsaywaman
The following day we climbed the hill outside of Cuzco to check out some of the nearby ruins. Upon reaching the top we encountered hundreds of school kids - flying kites, running around, and having a great time. After exploring the small ruins at Qenqo we walked over to Saqsaywaman. Ask anyone who has been to this region of Peru and they'll remember the name of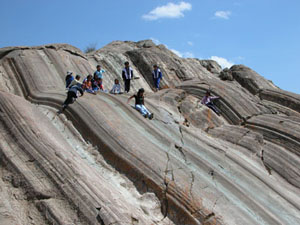 these ruins by the mnemonic - sexy woman. I've always been impressed with Saqsaywaman. It's one thing to be able to fit rectangular blocks of stone together perfectly without mortar, but something else entirely to do it with multi-sides stones - some of which way several tons. Saqsaywaman showcases some incredible knowledge and building skills.
While there we saw kids happily sliding down a smooth outcrop of rock. Well, that looked like too much fun, so we had to give it a try! We were later hijacked by a group of 6th grade school kids who grabbed our hands and led us through darkened passages in outcrops, before taking us back to the rocky outcrop to slide down a few more times. Eventually we were led to their teacher, who gathered everyone around and had them sing songs for us. It was a great day.
Lake Titicaca
From Cuzco we took a bus south to Puno, stopping at a few sites along the way. The following morning we boarded a boat for the floating reed islands of Lake Titicaca. These islands are composed of a meter of reed roots tied together, with another meter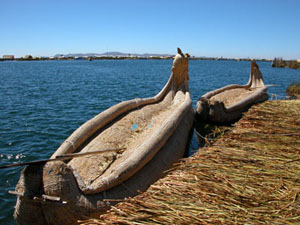 or so of fresh reeds piled on top. The islands tend to last approximately 17 years, and it takes the locals 5 months to construct a new one. The islands vary in size, though many seemed to support approximately 10 families. We visited several, and though some locals were trying to sell us souvenirs, it was an interesting glimpse into another way of life. There were even a few reed huts on one island which served as a rudimentary hotel. Had we known that existed we probably would have opted to stay out there, simply for the novelty.
We also took a short trip between islands in a reed boat, similar to the Kon-Tiki used by Thor Heyerdahl to prove that there could have been contact between South America and Polynesia. The boat was a pretty impressive vessel, and quite seaworthy.
That afternoon we headed outside of Puno to the stone funeral towers of Sillustani, and then the following morning we crossed the border into Bolivia.
Peru is…
Machu Picchu - an incredible complex worthy of being included in the New 7 Wonders of the World
Friendly and fair people, who rarely try to cheat you
Nazca Lines - amazing and mystifying
Llamas and alpacas
Lake Titicaca - the highest navigable lake in the world, and home to the floating reed islands
Color, color, and color - blankets, hats, shawls, you name it, and it was full of color
I hope to be able to return one day and explore the north - mostly around the mountain of Huascaran.