I caught the overnight flight from Rio de Janeiro to Houston, arriving there before 6 AM on August 2nd. I nervously handed over my passport to someone from our office. Nervously, because when it came to acquiring a Brazilian work visa nothing seemed to go as planned, and I needed everything to run perfectly. They would have their required 5-6 days to finalize my visa, and then would have to FedEx my passport to me in Montana by the 11th so I could travel to Peru. Amazingly enough, everything did run perfectly. Of course I didn't know that at the time, and so I worried…
A few hours later I caught my flight up to Denver, where I spent the rest of that day running errands and taking care of last minute business. The following afternoon Rhona flew in from Japan and the whirlwind adventure began.
We only had one day in Denver - not nearly enough time to do it justice, or to even take her up to the mountains, so we stayed in town and hit the Titanic Exhibit at the museum. It was fascinating to see articles dredged up from the depths of the past. Upon entering, each person is given a card with the name and details of an actual Titanic passenger. It makes you more involved during the walk-through of the exhibits, and then at the end you find out whether or not you survived - Rhona lived…I wasn't as lucky. That evening we popped over to my youngest sister's house to spend time with her family, then headed to my other sister's house to chat before calling it a night.
By 6:30 the next morning we were on the road. Ugh! That definitely wasn't easy, as both of us were exhausted from long days at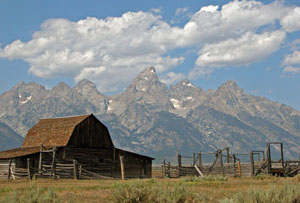 work, with Rhona also fighting severe jet lag. From Denver we headed up through Boulder and then through Rocky Mountain National Park. I remember being impressed with the park when I first went through about 10 years ago. I was less impressed this time. The drive was still beautiful, but everything seemed less grand than I'd remembered.
From Colorado we continued up through Wyoming - across the plains and through the Wind River mountain range to the small, extremely touristy, town of Jackson. Total time in the car for the day - 15 hours. After a quick pizza we simply crashed and relished the sleep of the dead!
After a late start the following morning we wandered around town a bit and then hit the road. The drive initially had us going by the Tetons - proper, rugged mountains, and so we stopped often for the requisite photos.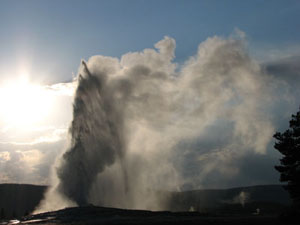 We next proceeded into Yellowstone National Park. Established in 1872, it was the world's first national park. It also contains roughly half of the world's hydrothermal features, and its more than 300 geysers make up two-thirds of those found on earth - and now you know. It has one of the most diverse collections of hot springs, fumeroles, mud pots, and geysers to be found anywhere. The most famous geyser of all, Old Faithful, was our destination for the first day. So named because of its regularity, it currently erupts approximately every 90 minutes, expelling super-heated water to heights as great as 185 feet (55 meters). It's always an impressive show.
We spent 2 nights in West Yellowstone, just outside the…come on, you can do it…WEST entrance of the park. The following two days found us back in the park, driving the roads and enjoying the various geyser basins, hot springs, mud pots, and fumeroles. Some of our favorite spots were Grand Prismatic Spring, the largest hot spring in the park and third largest in the world, and beautiful with the various rings of orange and yellow algae; and the travertine terraces of Mammoth Hot Springs. Other natural attractions we enjoyed were Yellowstone Lake, the Yellowstone and Firehole rivers, waterfalls, and seeing numerous elk, bison, a bear, and, probably most to Rhona's delight, chipmunks! I think the last time I was in the park was the mid 90's, but that was during the winter on a snowshoe camping trip with my dad. I can't remember the last time I was there in the summer, so it was good to be able to spend some time and see everything again.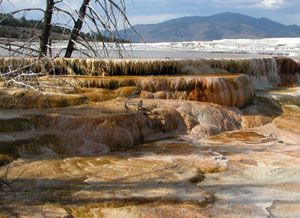 As we passed once more through West Yellowstone on our way to Helena, we stopped in to see the Yellowstone IMAX movie, and to spend time at the grizzly bear and wolf discovery center. It's an educational facility to teach people about the animals, but most impressive is being able to see them up close. I've always been intrigued by bears - they're impressive.
We finally arrived at my dad's place in Helena, Montana, where we spent 4 days. One morning we took the small tour train around the city, and then wandered around town a bit. Let's face it, in a city of approximately 30,000 people, that doesn't take long, but it's always good to get back and see how the place has changed.
Another day we took the Gates of the Mountains boat trip on the Missouri River. The area was named by the Lewis and Clark expedition (1804-1806). As they approached a bend in the river, the towering cliffs on either side seemed to part, allowing passage.
Back in the car we continued to Great Falls, where we checked out the Lewis and Clark Interpretive Center. Land purchased in 1803 in what's known as the Louisiana Purchase comprises roughly 25% of the present-day US. Lewis and Clark and their Corps of Discovery were entrusted with the task of exploring and mapping the region, documenting scientific discoveries, befriending native Americans they'd invariably encounter, and seeing if there was a viable river route from St. Louis to the Pacific Ocean. The Interpretive Center is well done, and helps one come to grips with the monumental task of the trip.
We enjoyed our time in Helena as it allowed us an opportunity to relax, recharge, and organize ourselves for upcoming adventures.
From Helena we had one more 14-hour day of driving. We stopped for lunch in Billings to see my mom, and then continued on our way, arriving in Denver late on the evening of August 13th. We flew out the following day for Lima, Peru.