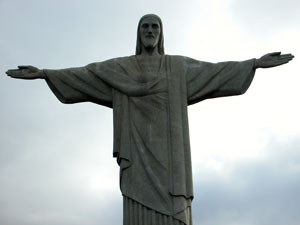 This is novel - actually posting an update shortly after I go do something! Yesterday 19 of us jumped in 5 taxis and headed up Corcovado - a 710 meter (2330 foot) mountain overlooking Rio. Why? To get an up-close view of the iconic symbol of Brazil - the giant Christ the Redeemer Statue. The statue stands 32 meters (125 feet) in height, and welcomes all to Rio with open arms.
The mountain also provides excellent views over Rio - from the famous Ipanema and Copacabana Beaches in the south, to the football (soccer) stadium in the north, to the distinctive Sugar Loaf Mountain in the east.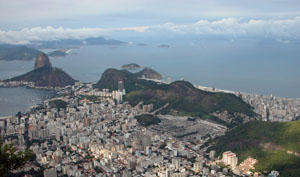 It was all visible from the summit, and we enjoyed hanging out up there for an hour, taking it all in.
Even though it was a quick excursion away from the vessel, it was nice to get out and see a bit of Rio. I especially enjoyed the drive through the various areas - from the rough-and-tumble port region where we're docked, to the more affluent areas of the city. It seems like a relatively clean city - one doesn't see much trash lying about. There is a lot of graffiti, but it was artistic and colorful, so I enjoyed that. You can often see groups of people sitting outside small shops drinking and wiling away the hours. It seems like a relaxed pace down here.
On the way back to the vessel I saw something I'd never seen before - busking at a traffic light! We stopped for the red light and a guy dressed as a clown stepped out onto the crosswalk and proceeded to juggle and entertain. He performed for most of the duration of the red light, before hurriedly passing from car to car hoping for a handout. Entertaining.
We're still not sure how much longer we'll be tied up here in Rio. We assumed that we'd be leaving later this week, but may have received some bad news earlier today. We're trying to confirm things with customs, who seem to continually change their mind as to what is required in order to clear a shipment. Never a dull moment.
I've added a few additional photos to the Brazilian photo album.
Anyway, just a quickie in order to post a couple of photos from yesterday. And the next time someone informs you that they've 'found Christ', you can reply, "That's not difficult - there's a humongous statue of him overlooking Rio!".