Brace yourself, as I'm actually working again! Crazy, I know….
In the first 4 months of this year I worked 5 weeks, which of course is 5 weeks more than I worked between January 2001 and March 2005. However, I'm about to make up for it, as in the next 3 months I'll be working….3 months….every day….about 14-hour days….but available by phone 24-hours a day….yikes! I needed to have some time off in August to - what else - travel. Unfortunately, the 6-week working/6-week off schedule would have put me back out here on the vessel in August, so to solve that I've opted to do a 12-week rotation. I've never done a hitch that long, but I have seen others after they have, and it's not a pretty sight! Wish me luck…..
I left Helena around noon on May 6th and flew to Houston, Texas in a couple of sardine cans. The next morning I had a meeting with the company I'll be representing out here, which was nice as it allowed me to ask some questions, as well as helping me put faces with the names. They took me to lunch and then turned me loose. Since I didn't have to fly out until 9 that evening I thought I'd pop over to the company I used to work for and catch up with some friends. Unfortunately, I didn't know they'd moved! It took me awhile but I finally found their new location, and then finally found people who were back from lunch, and so caught up with them - most of whom I hadn't seen in at least 6 years.
It was especially good to catch up with Pat, a guy I went to college with in Montana.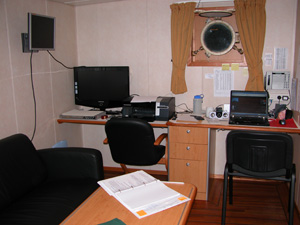 When we were both working for a different company we used to keep each other entertained, and generally kept each other from getting very much accomplished. I seem to still have that talent - he left work early and we headed out to his place so I could see his family. I also got to see five or six paintings that he'd done from some of my photographs taken in Tibet and China. I'd stated in the previous entry that it was fun to see my photos in a coffee-table book. It's even more impressive to see them as large paintings in frames! I enjoyed that, and they were really well done.
After visiting for a short time I was back in my car to fight rush-hour traffic up to the airport and my flight to Brazil. There was supposed to be someone meeting me at the airport in Rio. There wasn't. I called and someone finally sauntered up about 45 minutes later, so we headed to the hotel. Upon checking in I learned that a meeting I was supposed to attend had just finished, but that they were having lunch. Went to the room, dumped my stuff, and popped back downstairs to meet people and grab a quick bite to eat. From there we went immediately to a meeting with the Brazilian Navy to discuss the logistics of our survey, and then I went out to the vessel for about 3 hours to start the handover with the person I'd be relieving. After 36 hours of being on the move, I slept well that night.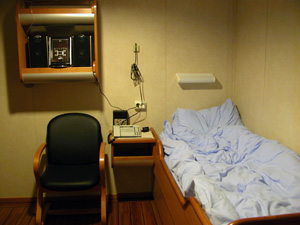 The following day, May 9th, I was back for good. The vessel has been here in Rio for almost a month, and it looks like it will be here for at least another week as we try to get some gear through customs. It's been ridiculous hearing of all the hassles with the Brazilian Customs agents.
On the up-side the food is better on this vessel than the last vessel I worked on in the Gulf of Mexico….MUCH better. And I'm happy to report that we haven't been served liver yet. However, even if we are it will be written on the whiteboard so I'll know to avoid it. There are cakes and snacks set out mid-morning and mid-afternoon, and there are always cereals, bread, crackers, fruit, juices, and other things available. As it should be.
The crew is mostly Russian and Filipino, though we also have Brazilian, English, Algerian, American, Swedish, and probably a few other nationalities that I don't know of yet. It seems like a good crew.
I also ended up with a good room. It's actually two rooms - the first is the work area complete with couch, table, desk, printer, and DVD player. Connected to that is my bedroom, with a small toilet/shower off that. It's quite comfortable, so hopefully I'll be able to cope with the 3 month trip. I suppose that will be extremely easy if we don't actually get out to the prospect area and start collecting data!
Anyway, I'll end this one here. I'm hoping to leave the boat sometime next week and head up to the large Christ the Redeamer Statue on the mountain, and then maybe down to Copacabana Beach. If I end up doing that I'll post a few more photos.
I hope all is going well in your part of the world, and I'll most likely catch you at least one more time from out here somewhere off the Brazilian coast.