Looks like we're not in Tibet anymore, Toto! This one is coming to you live from a Russian vessel in the Gulf of Mexico…as you do. Yep, after being out of the game since January 25, 2001, I'm back in the oil patch. Gulp!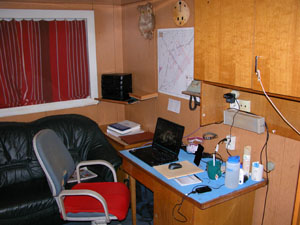 I left Montana the morning of January 31, and 11 hours later I was finally in Mobile, Alabama, having made stops in Salt Lake City and Atlanta on the way. Happy birthday to me! The vessel I was heading to doesn't do helicopter crew changes, so the next morning I met my new home at the dock. I quickly got settled and then, upon the recommendation of the client representatives onboard, we went out to eat. More on why later. Back onboard I had a brief handover with the offgoing representative, and then I was left to it. Luckily for me this job calls for two client representatives onboard - each representing different divisions within one main company. Confusing, yes, but it means that I can lean on a guy who has been doing this for something like 30 years. It's a nice way for me to break into being an onboard client rep, since I've never done this before.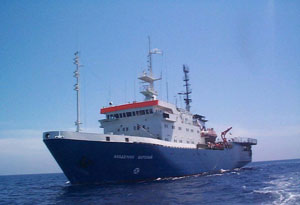 It took us a few days, but we finally got back out to the prospect area, deployed all the gear, and got back into production. I'll admit that it took me a few days after that to get back to my seismic senses. Initially the dull thud of the air guns shooting every 15 seconds kept me awake, and I had to get my sea legs back as well, so I could walk down the halls without bouncing off the walls.
Something else I had to get used to on this vessel? The food! I'd been warned to bring some of my own, which I did. However, I was thinking to myself, "How bad can it be? I've eaten dogs, snakes, grasshoppers, ants, scorpions, fish heads, and the list goes on and on. I've also eaten Russian food when I worked there in 1998 & '99. It can't be that bad, right?". Wrong! First of all, we get liver. A LOT! Like at least twice a week. I don't like liver, and it seems I'm not the only one on this boat. The cook obviously knows that, so he disguises it. Something cut up to look like the beef in beef stroganoff? Liver. A patty that looks like a hamburger? Liver. I'm starting to implement a no-dark-meat-policy, but I'm afraid the cook will figure out a way to make liver a white meat! The liver isn't the only problem - the food in general is pretty bland, absolutely floats in grease, and is usually cold by the time it's served. Nice.
Of the 45 people onboard, all are Russian speaking except for 1 Aussie, 1 Canadian, and 6 Americans. The crew are great, but you do have to watch them to make sure they're not cutting corners, or trying to keep something from you. They definitely do not want any downtime for which they don't get paid. Which was a problem this morning - it's hard to hide the fact that the main engine on your vessel has gone out and you're dead in the water! I've been out of the industry for 6 years, and even I could figure that one out! It took 4 or 5 hours but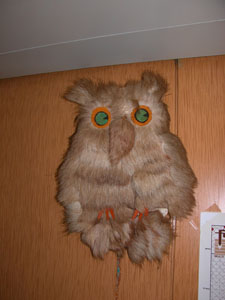 they patched something together and we're back underway.
The lines on this survey are extremely long - the one we're currently shooting is over 520 kms in length. Most lines are taking 2-3 days to collect, which gives me time to keep up with the quality control, databases, and report writing.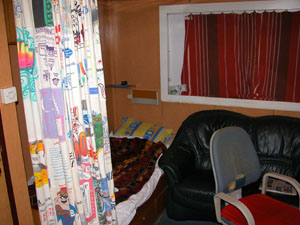 It has also given me a chance to work on creating a photo book of some of my Tibet photos. I'm hoping to have the general layout of the book, with all the photos, done by the time I get off the boat. I'll then probably have to write up a few brief descriptions of some of the major places in Tibet, and then I'll send it off to be printed. It will be kind of cool to have a coffee table book of my own photos. Anyone can create a book - simply visit Blurb, download the free software, and away you go. You don't pay anything until your book is printed. If it turns out fairly well I may make mine available from this site…stay tuned.
I'm not sure how much longer I'll be onboard for this trip. Right now the rumor is that crew change will be March 1st, though we're suspecting that may be pushed back a bit. And then everything is up in the air. I'll probably have a bit of time off, and then possibly head down to a job offshore Brazil. Could be worse - I've never actually been to Brazil, so I can do some exploring during my time off.
And now that you have a brief glimpse into my life out here on the high seas (which by the way are supposed to become higher in a few days - 14 ft./4.3 m. seas are predicted for Thursday), it's time for me to go grab dinner. Greasy cold liver, here I come!