Dates Traveled: October - December 2006
I finished my last Tibet trip of the season on October 22nd in Kathmandu, Nepal. I had an enthusiastic group, and we had great views for most of the trip, so it was a nice way to end. And it truly was the end, as I've decided to hang up my tour-leader shoes and try my hand at some geophysical consulting work starting in 2007. I enjoyed my time with Intrepid, and it was great to be able to show others a bit of what Tibet has to offer, but it's time to move on.
However, as you've probably guessed, I was unable to proceed from one phase to the next without a bit of traveling, and so I met a friend of mine in Kathmandu on October 21st and we began our 1-1/2 month excursion through Nepal and India.
NEPAL
Kathmandu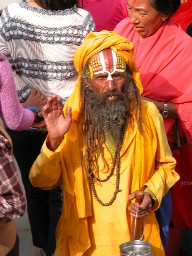 My first task was to go through the hassle of trying to get an Indian visa, which was actually a great re-introduction to India - there was chaos; I waited for hours in what was supposed to be an orderly line, but which was anything but; and most of the other travelers attempting to secure visas were Israeli's. India in a nutshell. It took me two trips to the embassy but I finally left with a 6-month Indian visa. Whew!
When not finalizing my end-of-trip reports/accounting or trying to secure an Indian visa, we actually got out and explored some of the main sites of the Kathmandu area.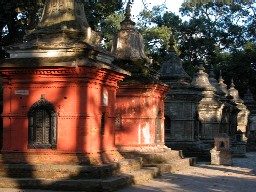 We walked the back alleys of Kathmandu to Durbar Square and its pagodas. We then proceeded to Freak Street - a mainstay of the old hippy trail, but now looking a bit tame - supplanted by the area of Thamel where we were staying.
In case one Durbar Square wasn't enough, we hedged our bets by also visiting the one in the suburb of Patan. The Kathmandu Valley actually has three ancient capitals - Kathmandu, Patan, and Bhaktapur…each with their own Durbar (Royal) Square. We also wandered the alleys around Patan to take in a few of the other temples.
From Patan it was a taxi out to Pashupatinath - the most important Hindu temple in Nepal, and one of the most revered Shiva temples on the sub-continent. However, most tourists tend to visit for more macabre reasons…the ghats at Pashupatinath are built along the banks of the holy Bagmati River, making it the most auspicious place in Nepal to be cremated. The burning platforms are segregated by caste, and there is even one for the royal family, which was working overtime in 2001 after the Crown Prince shot 10 members of his family before turning the gun on himself.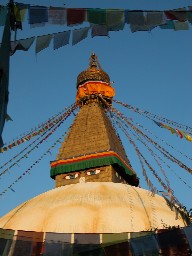 One can normally see cremations taking place at Pahupatinath, and they're actually quite interesting. The body is cleansed in the river, and then carried to the funeral pyre. The body is carried around the pyre a few times before being placed on the stack of wood. Family and friends circle the body - paying their last respects and wailing in grief. Finally, a small fire is lit within the mouth of the deceased before the main body of wood beneath the body is set alight.
We witnessed a few cremations before investigating the rest of the complex. Finally, we proceeded up a small hill and made our way on foot to Bodhnath, or Boudha - one of the largest stupas in the world. We arrived just before dusk, when many of the displaced Tibetans choose to walk the kora, so it was a magical time to be there…the ever-watchful eyes of Buddha painted above the white-washed dome of the stupa; colorful prayer flags fluttering in the breeze; setting sun shining golden on the prayer wheels; and Tibetans spinning prayer wheels, fingering prayer beads, and prostrating. Nice.
The rest of our time in Kathmandu was spent visiting Swayambhunath - better known as the Monkey Temple; wandering various alleys; taking in the beautiful candle-lit offerings for the god of wealth during the Diwali festival; eating some great food; and shopping.
INDIA
Gorakhpur
Early on the 27th of October we caught a taxi to the bus station and hopped a bus for our 10-hour journey to Sunauli and the border with India. Actually, the bus dropped us in Bhairawa - 4 kms from the border, but after a short rickshaw ride to the actual border, exchanging money, and going through the border formalities of each country, we found ourselves on a bus headed for Gorakhpur. Welcome to India…the bus was packed! Many were standing in the aisles, others were leaning on those of us 'lucky' enough to have seats, and a few young children were squished on the floor between grownups until we offered our laps or otherwise made space for them. It was chaos, but still brought a smile to my face. I love traveling on public buses! It took us 3-1/2 hours to reach Gorakhpur, which was meant to simply be a transit point. Uh…wrong! After traipsing back-and-forth between the train station and various travel agents we determined that:
1 - The computer reservation system at the train station closes at 8 PM…we were there around 9:30, so couldn't book a sleeper berth for the train we wanted that evening
2 - We couldn't buy a general ticket from the train station for the train we wanted that evening
3 - We could get a ticket from a travel agent for the train we wanted, but at a ridiculous, inflated price
4 - We couldn't get tickets to other destinations along the way for some of the same reasons - mostly dodgy travel agents
Therefore, after running around for over an hour we decided it was best to simply spend the night in Gorakhpur and hit the reservation office when it opened at 8 the following morning. We got a crappy little room for a steal - afterall, we didn't have to pay extra for the mosquitoes, the lack of hot water, and a toilet that didn't flush. Bonus! However, it seems that everything happens for a reason, and our unexpected stop in Gorakhpur also had its advantage - it allowed me to get a book containing the schedules for all trains in India. Now, for those of you that haven't been to India, don't blow that off as a simple little task! It involved heading back to the train station and searching a few of the book sellers…no luck. I then contacted the 'Information' booth. A guy walked me to some other book sellers…no luck. It seems the book of train schedules had been printed in July, so most copies were sold out long ago. After my 'Information' dude consulted a few more people he informed me that he had a copy which I could have. I had to wait around until shift change, at which point I followed him to his room (shared with about 5 other station employees) and got the book. And 'just like that' I had our most prized possession in India - a means of determining how we'd get from one town to the next via train.
We got up early the following morning to ensure we were first when the reservation office opened at 8. We weren't, but those already in attendance weren't looking for tickets - they were cows, sacred in India, which had wandered into the reservation center to empty their bladders and bowels. Nice.
Anyway, we stood at the head of the appropriate line, which at various times in India is reserved for 'Foreigners', 'Ladies', 'Senior Citizens', 'Freedom Fighters', 'Disabled', and 'Military Personnel', among others. With our handy 'Trains at a Glance' book we were able to work with the agent and actually get 2 tickets leaving that afternoon for Delhi. It seems we were lucky, as later that day we talked to some backpackers who were only 3 people behind us in line, and they were unable to get reserved tickets on the same train. They ended up paying the price the travel agent quoted - almost 3 times the actual value of the ticket, in order to ride that afternoon. As I've been told many times, "Everything is possible in India with baksheesh", but that seemed like a high price to pay in order to simply 'share the wealth'.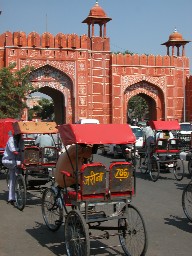 After catching up on our sleep and eating at a fantastic, though fly-infested, outdoor cafe, we were on the train for our overnight journey to Delhi. A local girl befriended us and took us from the train to the recently built metro, complete with a very thorough x-ray and baggage search. We then ran some hoops but eventually ended up on a bus headed for Jaipur. In all, it took us about 56 hours to get to Jaipur, though 'only' about 35 hours of that was actual travel time - the rest was the overnight stay in Gorakhpur and the time for the transit between modes of transportation.
Jaipur
Jaipur is known as the 'Pink City', due to the red sandstone walls that encircle the old town. It was also our first real outing in India, so it was great to wander the narrow streets, dodge the traffic, deal with the beggars and rickshaw drivers, sample the food, observe street life, and drink chai - the tea that would become our comfort drink throughout India. We visited the Hawa Mahal (Palace of the Winds), a beautiful, skinny building where women of the court would watch the city without being seen themselves; and we took in a Bollywood movie at the Raj Mandir Theater - famous throughout India for its opulent foyer.
Pushkar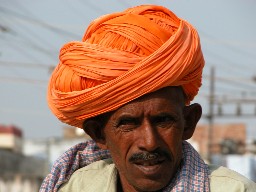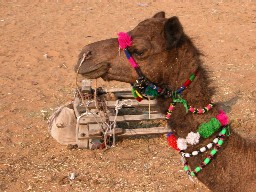 After a few nights in Jaipur we were Pushkar bound - along with seemingly everyone else in that part of India! Not surprising, as the annual Pushkar Camel Fair was about to get under way. We hopped off the bus and were immediately accosted by touts 'selling' their hotels. After checking out a few options we ended up with a great little room for a much cheaper price (about US$6 between the 2 of us) than I'd expected to pay. We immediately settled into a rhythm - lazy breakfast, wander the town to see how many new people had arrived, head out to the actual fair and camel area to see what craziness was happening out there. Repeat as necessary.
Locals bring their camels and horses from all over Rajasthan to the outskirts of Pushkar during the fair, where a temporary used-camel-lot of wheeling and dealing breaks out as Indians look to unload their troublesome camel, or simply upgrade to a newer model. The camels have designs shaved into their fur, and most are adorned with brightly colored 'necklaces' of beads. It really is a colorful affair. Families camp amongst the camels, so it's a great place to hang out at night in order to see real life.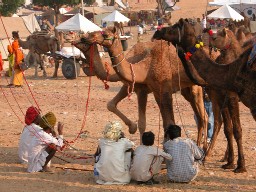 We were doing just that one night - sitting around drinking chai, when we accumulated the standard encircling of curious Indians. A young Indian girl applied henna to my friend's hands, while we men sat around solving the world's problems…or something like that. Actually, with no common language it somehow deteriorated into making various noises with things at hand - mostly mouths and fingers. I performed my finger popping, the pop of fingers from pursed lips, and the low whistle through cupped hands, only to be trumped by an Indian guy who, without any prompting from me, broke out the winner - the ol' cupped-hand-in-opposite-armpit-single-chicken-arm-flap to generate fart noises. Classic! Who knew THAT was universal. I'm telling you, you can't make this stuff up. It was a great night…one you live for when traveling.
Bundi
After four days of wandering around Pushkar, checking out the camels, watching fireworks, and seeing Rajasthani's take their holy dip in the lake, it was time to move on. Note to self - NEVER try to leave Pushkar on the last day of the Camel Fair. Actually, I'd made that same mistake in 2001 and vowed to never do it again. However, due to a changed itinerary this time around I once again found myself trying to leave Pushkar amidst pandemonium. We walked back-and-forth among overloaded jeeps and buses, before finally getting a spot on a bus for an inflated price. No problem, just get us out of here!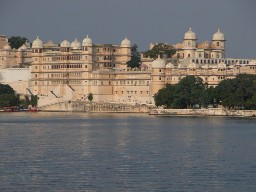 Bundi turned out to be a great little place, and the first place this time around that was new to me. Neither of us was feeling particularly well, but we still managed to drag ourselves up the hill to the palace. It was fantastic - mostly because we had the place to ourselves, but also for the workmanship in the various rooms. We also enjoyed seeing the floodlit palace from the rooftop of our nearby hotel.
Udaipur
I enjoyed Udaipur last time, and nothing this time around made me change my opinion. It has a great setting by a lake, beautiful palaces, nice alleys for wandering, and even I could enjoy some of the souvenirs for sale - mostly the miniature paintings.
The first day in Udaipur we went to the City Palace, with its intricate carvings and mirror work, and interesting museum. From there we proceeded to the adjacent posh hotel to see a crystal display of items bought by the former Raj. These included your standard cups, glasses, plates, and candelabras, but then ran to the more indulgent - crystal chairs? Crystal beds? We next took a boat trip out to a small palace on the lake, where we were able to look back on the City Palace in the beautiful light of the setting sun. We finished the evening with a traditional folk performance which included singing and various types of dancing. The final 'dance' was performed by a woman who eventually had 9 pots stacked on her head.
Ranakhpur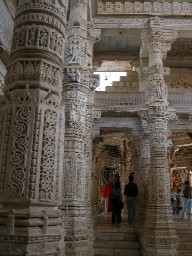 On our second day we opted to get out of Udaipur for a day trip to the Jain temples of Ranakhpur. I hadn't been able to visit them in 2002, so we were both seeing them for the first time. Talk about impressive! The temples were constructed of intricately carved marble - pillars, ceilings, friezes, door frames…everywhere you looked there was something amazing. It was made better by the fact we could take photographs. In 2002 I'd visited the Jain temples of Dilwara (and would again this trip). They have similar carvings, but forbid the use of cameras in the temple. Suffice it to say that I shot a lot of photos that day.
We were patiently awaiting our local bus back to Udaipur when two local guys pulled up in a car.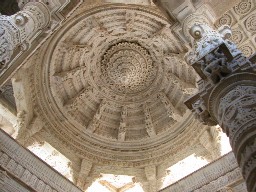 They said they'd take us back to Udaipur for the same price as the bus ticket. After a bit of reluctance (India is the land of the con men - nothing is as good as it seems) we decided to go with them. You tend to get a feel for people, and they seemed good. They were, getting us back to Udaipur much more quickly and comfortably than would have been the case in the bus. Plus we had some good conversations. All in all a great day.
Mt. Abu
From Udaipur we headed out to the hill station of Mt. Abu. Hill stations are popular during Indian summers, when locals seek the higher elevations to escape the heat. Hill stations are less popular in November - go figure. We were there primarily to see the aforementioned Dilwara Jain Temples. Last time I was in India I stated that the temples were one of the best things I'd seen in India. I would repeat that this time, but include the Ranakhpur temples as well.
Leaving Mt. Abu the following morning turned out to be a bit of a challenge. We knew there was going to be a localized strike, but were assured that the local buses would still be running to schedule. Or not. The following morning we rocked up to the bus stand only to find a swarm of locals awaiting transport. Newsmen and cameramen wanted to hear our stories of how the strike was affecting us, but we politely declined to comment. After waiting around for awhile a bus finally arrived, only to have locals throwing bags through open windows to secure seats. However, in what I believe is the first documented case of common sense actually being used in India, the officials on-hand made them all take their belongings off the bus, and would only allow people on the bus after they'd bought a valid ticket. And even that was orderly - what's up with that?!? They made people stand in two lines - one for women and one for men, and would alternate between the two. Plus there was no jumping ahead in the line, everyone waited their turn - a novel idea. Now, having said that we did end up playing the 'foreigner' card to get on an already-full bus, but things were definitely a lot more orderly than I'd come to expect in India.
Jodhpur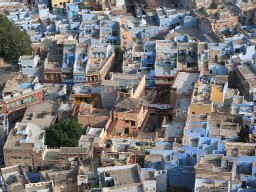 Another city and another color of the rainbow, as Jodhpur is known as the 'Blue City' due to the many blue-painted homes of the Brahmins. We simply made our way up to the massive fort overlooking Jodhpur, where we wandered through museums and royal rooms. That evening we returned to the floodlit fort to have a nice dinner overlooking the city.
Bikaner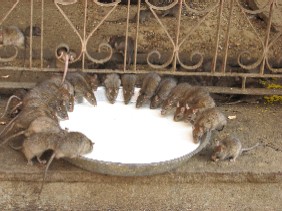 Finally, something I'd been kicking myself for missing out on 4 years ago. We were in Bikaner for basically one reason - to visit the Karni Mata Temple, aka, the Rat Temple. That's right, we made our way to Bikaner, grabbed a crappy room for the night, and then caught a local bus for the 30 minute ride to the town of Deshnoke. We walked to the Karni Mata Temple, deposited our shoes outside, and proceeded inside to the sight - and smell, of thousands of rats…and pigeons. The rats are considered incarnations and are revered, to the point that they have free reign over the temple. Priests set large bowls of milk and food around the courtyard, and everywhere you look you see congregating rats. It's considered especially good luck to see a white rat - which we did. Actually, my friend had told me earlier in the trip, after we'd been crapped on by a pigeon in Pushkar, that that is also considered good luck.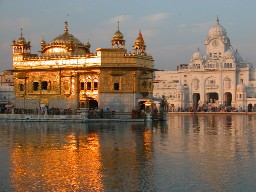 Well, in that case, I must be one of the luckiest guys alive, since while I was at the rat temple I was crapped on twice by pigeons and saw a white rat!
Amritsar
From Bikaner we made our way up to Amritsar and the holy site of another religion, the Sikhs. The Golden Temple sits majestically in the middle of a small man-made lake, and looks beautiful in the setting sun. We grabbed a room close to the Temple which gave us the opportunity to pop in during different hours of the day. No matter what time we were there we were amazed at the numbers of worshippers - some simply walking around the lake, others taking a ceremonial dip in the waters, and others standing in line for hours to enter the Golden Temple.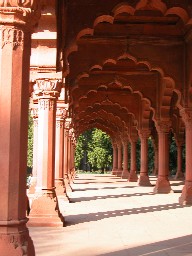 The first night we were in town we caught a share jeep to the Pakistan border, about 30 kms from Amritsar, and the nightly ritual of the closing of the border gates. You may remember that I went out there in 2002, against the advice of international governments, who believed that an India-Pakistan war was eminent. At that time there were tanks 1 km. from the border, but I was amazed at the pageantry of the ceremony. I'd told many other travelers through the years that they had to go see the event, so I was happy to be returning. What a difference peace makes! There were thousands of people out there - the stands were overflowing with jubilant Indians shouting across the border to their Pakistani counterparts. The well-dressed border guards from each country stomped and paraded around, before finally lowering the respective country flags and then slamming the border gates shut for the day. It's an amazing spectacle. If you're in Amritsar, don't miss it!
Delhi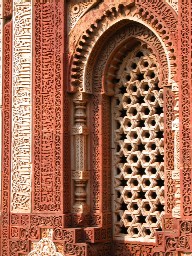 Next stop, the capital. Delhi, like most major cities, and especially major Indian cities, was chaotic. We were there for several days, during which time we wandered the streets and small alleys of the market area on the way to the Red Fort; saw Raj Ghat, Gandhi's memorial; took in another Bollywood movie; made our way to Qutab Minar, an impressive tower on the outskirts of Delhi; and shopped.
Agra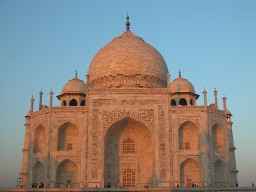 We arrived in Agra in the morning, and that afternoon made our way out to the Red Fort. As I've stated before, I find it more impressive than the fort of the same name in Delhi - the workmanship here seems much more ornate. It also has some nice views back to the Taj Mahal.
That night we opted to brave the cold in order to sit at a rooftop restaurant and admire the floodlit Taj Mahal…or not. It seems that they don't shine lights on the Taj at night. Why you ask? So that the Pakistani's can't destroy it. Huh you ask? That's right - the reason given for not illuminating one of the most beautiful buildings in the world is terrorism.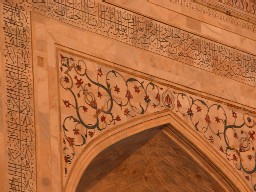 Now I suppose it doesn't matter that the Taj was actually built by Shah Jahan, a Muslim, as a mausoleum for his beloved former wife. Nor does it matter that the Taj will be in the same place in the dark of night as it is during the light of day. And don't even think about looking up Taj Mahal in Wikipedia, where you're given the exact latitude and longitude of said monument. Nope, too risky to illuminate it…sorry.
Luckily we were able to find the monument the following morning, and so hauled our carcasses out of bed and were in the grounds by 6 AM to witness the sunrise. Last time I was there I'd done the same, only to be extremely disappointed - the day was overcast. This time, thanks to pigeon crap and white rats, was a different story - the day was gorgeous.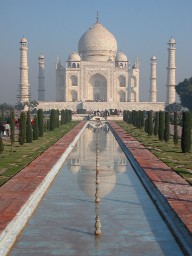 We had beautiful light for photography, and for simply admiring one of the most recognizable buildings in the world. It was perfect.
After grabbing some breakfast we decided to head 40 kms out of town to Fatephur Sikri, the capital of the Mughal Empire during the reign of Akbar the Great. After departing the bus and walking uphill through a garbage dump, we came to an impressive gate into the main courtyard. We checked out the mosque, as well as a tomb with some of the most amazing stone lattice-work you're likely to see anywhere. Unfortunately, we were there on a weekend, so we were constantly hounded by other visitors, as well as all the touts and beggars who follow the hordes. It really detracted from the experience.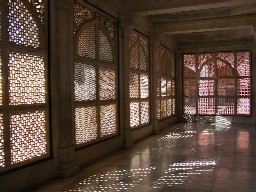 We next proceeded to the section of the city which had an entrance fee, which cut down the numbers of people hassling us, and gave us some peace to enjoy the beautiful architecture in the light of the setting sun.
As with all things in India, getting back to Agra was less than easy. We were told that the buses had finished for the day, even though we'd read that the final bus left at something like 7 PM (it was then around 5:30). It wasn't just a line to foreigners, we tagged onto a group of medical students that were fed the same story. We next opted to squeeze into some share jeeps, only to find out they weren't going exactly where we wanted in Agra. We were in the back of one of the jeeps when the "no more buses for the day" bus pulled into the park. We hopped on. It was touch and go whether it would make it back to Agra, stalling several times, but we eventually made it 'home'.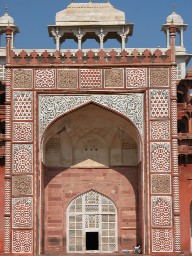 We decided to get an early start the following day and squeeze as much into it as possible, so we hired a rickshaw for the day. First stop, Akbar the Great's Mausoleum in Sikandra, 10 kms from Agra. It was my first time visiting the mausoleum, and it was beautiful. It consisted of sandstone and marble, and had some of the most beautiful marble inlay work we'd seen. It was also pleasant because there were very few visitors, making it a peaceful place to stroll around, admiring the complex and the many animals grazing in the well-manicured lawns.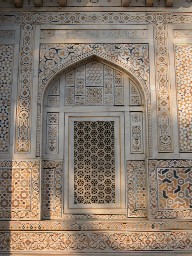 We also visited Itimad-ud-Daulah's tomb, which is more commonly referred to as the Baby Taj. Again, it was my first time to visit, and it was also stunning, with beautiful marble carvings and inlay work of precious stones. The lack of tourists and touts once again provided us with some much-needed peace.
In exchange for a cheap rickshaw for the day we were required to visit a few different shops where the driver would get money or free petrol, so we saw a marble inlay shop and a few souvenir shops. However, all in all it was a great day in a pretty amazing city.
Varanasi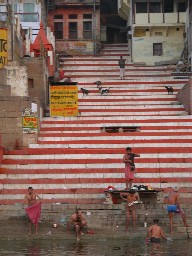 Late that night we boarded the train for Varanasi, arriving there the following morning. It actually arrived about 4-1/2 hours late - a common theme for us, but it seemed to only effect the trains when we were leaving at crazy hours like 5:30 AM, or just after midnight. Those trains were invariably late. However, we encountered nothing like my train in 2001 that was 14 hours late!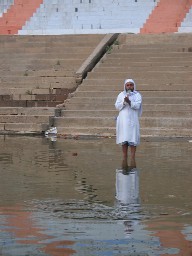 Our first task in one of the most holy cities in the world? Head to a movie theater to buy tickets to a Bollywood movie which had just been released and which we'd been wanting to see since arriving in India. Naturally. In the remaining couple of hours of light we simply walked along the ghats, observing local life, before finding a great little local place for dinner.
Early the next morning (like 6 AM - why is it that you actually get up earlier during 'vacation'?!?) we were once again down along the holy Ganges River negotiating with a young kid to row us along the various ghats. It was a fantastic couple of hours, as we watched the ghats come alive - locals bathing; others performing their religious rituals; dirty laundry dunked in holy water and beaten on riverside stones; touts in boats selling floating candle offerings or various statues; burning bodies; and those who simply ventured to the water's edge to see the sunrise.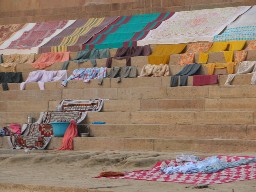 It was magical.
As at Pashupatinath in Kathmandu, though on a much larger scale, Varanasi is the place to be cremated in India. We witnessed several pyres burning at the two designated ghats. However, babies aren't cremated, as they're seen to be pure already. While being rowed back along the ghats we witnessed how they're treated. A small bundle, wrapped in white cloth and tied to a heavy stone, was placed aboard a small boat. The somber group of 3 guys rowed out to the middle of the Ganges, where one guy unceremoniously dropped the dead baby into the river, before they turned the boat around and returned to shore. It was all done very quickly and without fanfare. Sobering.
After returning to our hotel and getting breakfast, we walked to the theater…Dhoom 2 time! It was actually a pretty good movie (as attested to by the fact that we saw it again in Kathmandu, Nepal) - action, love interests, chase scenes, and the beloved breaking into song/dance for no apparent reason for which Bollywood is known. Ask nicely and you can listen to my soundtrack.
BACK TO NEPAL
Pokhara
We left Varanasi by train just after midnight…or should I say, we were supposed to. Unfortunately, our train was 2 hours late, so we didn't get under way until 2:30 AM. It was a 6 hour train journey to Gorakhpur, and a 2-1/2 hour bus ride to the border town of Sunauli. Border formalities, exchanging of money, avoidance of touts/cheats, and a 4 km cycle rickshaw ride ensued. Next, it was more hassles trying to get the proper bus ticket for the proper price. We failed, so opted to buy a ticket only to the town of Mugling, where we were hoping to catch another bus. It was a 6-hour bus ride, dumping us at the darkened crossroads at 9:30 PM. Unfortunately, all buses seemed to be parked for the night. We asked if it was going to be possible to get to Pokhara that evening, but it wasn't looking good. Just when we were contemplating grabbing a room for the evening a mini-van pulled up. Throw the bags on top, cram us inside, and a quick 2 hours later we were in Pokhara. Avoiding the taxi touts we started walking to Lakeside, before finally finding a taxi quoting an acceptable price. We were dumped on the main street, walked to a hotel, had the security gates opened, and checked out a room that was nice - and they offered it for a great price. And just like that we were in Pokhara. It was almost midnight.
After the sleep of the dead we woke up to a nice warm shower, a view of the Himalaya, and a lazy breakfast of great food by the lake. Life was good. Pokhara is an easy place to lose track of time, with its lakeside setting, views of snow-covered peaks, shopping, and laid-back restaurants. We were hoping to avoid that trap, as we planned on doing a short hike in the region. Unfortunately, the weather turned cloudy, and we decided it wasn't really worth the hike if we weren't going to have great views of the peaks.
We opted instead to do a few short outings near Pokhara. Late one afternoon we were rowed across the lake and then climbed a small hill to the Peace Pagoda, which gave us some nice views of the Himalaya range towering over the town and lake. We walked back in the dark.
Another morning we left the hotel at 5:30 AM for a taxi ride and 1/2 hour walk to the viewpoint at Sarankot. Some of the Himalayan giants towered before us - the Annapurnas, and the sacred peak of Machapuchare in particular.
We'd talked to a Tibetan shop owner the previous night, and she'd told us about her village at the base of Sarankot. We could look down upon it from the viewpoint - how hard could it be to walk down there? There must be a trail, right? Right? After floundering a bit in one direction, following trails that petered out in the thick undergrowth, we tried our luck in the opposite direction. More of the same - follow a trail for a bit, go bush, find another trail, follow a dry stream bed, oops - steep drop of a waterfall, backtrack, flounder, repeat as necessary. However, our perseverance paid off, as we eventually found the trail which we knew must exist. It was then an easy walk to the river, which we crossed on large stones placed there for that purpose, and then up the other side to the village. We visited the monastery and wandered through the narrow lanes of the village, before heading out to the main road and hailing a passing bus. A short ride on the roof of the bus dumped us on the outskirts of Pokhara, where we walked and then caught another bus back to Lakeside. A nice day.
Kathmandu
It was tough to leave the easy, quiet life of Pokhara, but we tore ourselves away and jumped on a 6-hour bus back to Kathmandu. We only stayed two nights that time, organizing a bit, shopping, and seeing Dhoom 2 again - this time with English subtitles.
Nagarkot
From Kathmandu we took a bus to Bhaktapur, rode on top of another to a bus stop on the opposite side of town, and then crammed in a third for the ride up to Nagarkot - known for its great views of the Himalaya. We walked around looking for a place to stay for the night, and were more than a little discouraged when the first couple we looked at wanted US$90/night - plus tax. We didn't have the heart to tell them that was US$86 more than we wanted to spend. We did eventually find a place for our price, and so sat on the balcony admiring the views and playing sho, the Tibetan dice game.
Dhulikhel
The following morning we were back on the balcony by 6 AM for the sunrise…which never really materialized. It was still a peaceful setting, and we could see the mountains, but they never turned golden. Oh well. We had breakfast and then set out walking down the hill. We set a leisurely pace, taking many photos, stopping by the trail to play sho, admiring the small villages and terraced hillsides, and enjoying the Newari town of Nala, before arriving in Banepa 7 hours later. From there it was a short bus ride and walk to High View Resort in Dhulikhel.
High View is where we spend a few nights with groups on the Intrepid Tibet trips, so it was nice to get back and see old friends one last time this year. Once again we had grand plans for a short hike the following day. Once again they fell through. As our trip was coming to an end, we opted to simply relax, play sho, eat great food, and admire the range of mountains from the warmth of our room.
Kathmandu…Again
An easy bus trip had us back in Kathmandu and the end of our adventure. We did a bit more shopping before my friend flew out on December 11th, and I'll follow suit on the 17th. My trip Stateside will be a bit like some of our Indian journeys - just over 1 hour flight to Delhi, 10 hour layover, 9+ hour flight to London, 6 hour layover, 9+ hour flight to Denver. Then it's Christmas, New Years, and on to the next adventure…stay tuned.