Well, it looks like it's been almost 2 months since my last entry. That has nothing on the 7 months it used to take me to send out an update/e-mail, but I'd envisioned doing these online updates more frequently. What happened? Basically laziness….no other excuses. Anyway, on with the update…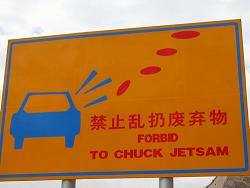 Last I left you was early June and I'd just finished a 2-week trip from Shanghai to Beijing. On June 3rd I started a 3-week trip which went from Beijing to Xian, then through Gansu and Sichuan Provinces to Chengdu. We then flew to Guilin and spent time in the Yangshuo area before finishing the trip in Hong Kong. I won't give blow-by-blow specifics, as the trip was basically the same as that covered in my May 14th entry, but…
It was a good trip with a full group - plus one extra, or 13 passengers. One variation from the previous trip of the same name was that in Tangkor we spent an evening with a local Tibetan - Yonten Gonpo. He's an English and Music teacher at the local school, and he has also produced a few VCD's of his music. For about 1-1/2 hours he sang and played a guitar-like traditional Tibetan instrument - the damye. He had written most of the songs himself, and it was great for people to be able to listen to some traditional singing and playing. The locals in attendance also stopped what they were doing to listen - he was that good. Ask me sometime when I'm in your neck of the woods and you can borrow the VCD.
Whereas the last group almost all opted for the horse trek in Songpan, nobody in this group did, so we simply had a free day. I took off doing a small hike above town, and believe I got up to where the horse trek would have gone anyway. There were some fantastic views, and it's always nice to get out and stretch the legs a bit. In fact, for a few months I've been feeling that I'm due for a nice hike - one lasting several weeks. I miss those, as I always feel healthiest while out trekking.
Another variation on the theme was that in Yangshuo I bypassed the hot cupping treatment in order to try acupuncture, since I'd never felt like a pin cushion before. It was an interesting feeling, and I did seem to feel more energized for a few days. Sorry - no photos of this one, but did you really want any after being subjected to my leech-marked back last time?!? Thought not.
The rest of the trip went without a hitch, or was so similar to the May 14th entry that it really doesn't require words, so that speeds me forward to June 26th.
I met my new group of 11 passengers in Beijing at the start of the Mountains and Monasteries Tibet trip. I was looking forward to getting back to Tibet, as it had been 3 months since I was last there. The trip was basically as described in my April 16th entry, but…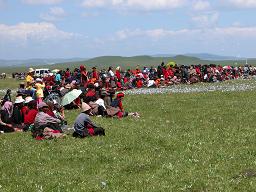 We were fortunate on this trip to stumble across a few festivals. The first was helping to celebrate HHDL's birthday. We lit hundreds of butter lamps, offered katas (white ceremonial scarves) to a painting of the Bodhissatva of Compassion, lit fireworks, and threw Lung Ta (prayer papers) into the air. We felt privileged to be able to share in the festivities.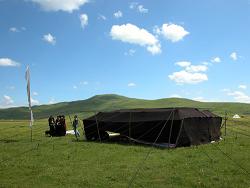 Another event happened on the way to our homestay in the Tangkor region of Gansu Province. We'd heard that there was a horse racing festival, so we drove out to the grasslands and spent several hours hanging out with the nomads in attendance. There was actual horse racing - several riders galloping in circles…usually in control of their horse, but not always. That was different than the other horse festivals I've witnessed where riders would gallop and then lean as far off their horse in order to collect katas which were lying on the ground. We watched a bit of the race but quickly grew bored, so….out came the frisbee, soccer ball, and stupid human tricks. As always we attracted quite a crowd and thus spent a great afternoon entertaining - and being entertained, until the racing was over and nomads mounted their new steeds…motorcycles, and sped off across the grasslands.
We drove a short distance to a nomadic tent of a family we knew, and spent time drinking tea, eating soup, and learning of their lifestyle. Another short drive had us spending the evening in their permanent winter home - or sleeping outside under the stars. A great couple of days.
One evening in Lhasa saw most of my passengers and a few friends visiting nangmas, or Tibetan nightclubs. These defy description - there are comedy skits, and singing in Tibetan, Chinese, Hindi, and English. There are traditional line-type dances, more western dancing, and lots of beer consumption until the wee hours of the morning. Everyone seemed to enjoy the evening.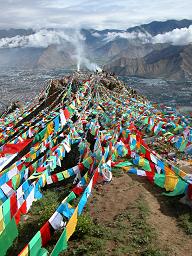 There was also a festival while we were in Lhasa, so a few of us and the same Tibetan friends left Lhasa at 6:30 in the morning - bound for a mountain (Bumpo Ri) just across the river. There were already hundreds of Tibetans on the mountain - most carrying new prayer flags to be hung and plastic bags of juniper to be offered in the numerous fires dotting the mountain. To the sound of monks beating drums and blowing horns, we climbed steadily upwards to the top of the mountain. At the base of a steep cliff we paused while colorful prayer papers thrown by worshippers above rained down on us. Surreal. On top we joined the throngs making their offerings, hanging new prayer flags, and enjoying lunch. As always it was great to be accepted by the Tibetans and invited along for their celebrations.
The first stop after Lhasa had us in Samye and witnessing another festival - the Cham Dancing at Samye Monastery. I've now been fortunate enough to have seen this for 3 straight years. To the accompaniment of monks on horns and drums, other monks in colorful costumes and masks dance around the courtyard. There can be a few stories told, but generally they contain some lesson in suppressing evil.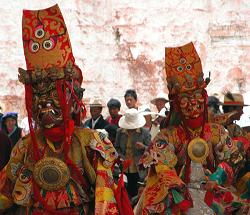 Samye is a fitting place for the performance, since that's exactly what legend says originally happened there - in the 8th century Guru Rimpoche climbed a hill and vanquished demons, converting some to wrathful deities, and allowing Buddhism to take hold in Tibet. It also allowed Samye Monastery to be built - the first in Tibet. And now you know…..
As is typical for July and August, when Tibet gets most of it's rain, the days were mostly cloudy. I was trying to temper expectations of actually seeing Everest (most guides/drivers said we wouldn't), while hoping that my luck would continue and we would. Upon topping a 5200 meter pass from where we have a possibility of seeing 4 of the highest peaks in the world - including Everest, we saw……clouds. No problem…still hopeful. We drove on to Rongphu Monastery, a mere 8 kms. from basecamp, and as soon as we were settled we wandered outside to stare in the direction of Everest, and she didn't disappoint. We were treated to views of the base and summit, though there was still a layer of cloud through the middle. My streak was alive - 10 for 10 on seeing her from the Tibetan side, and more importantly the group saw for them what is always a highlight. Whew!
We woke up early the next morning to a brief glimpse similar to the previous evening before the clouds descended and we could see nothing. We walked the 2 hours to basecamp and as we arrived the Goddess Mother of the Earth (Qomolangma - the Tibetan name for Everest) put on her best show. All clouds disappeared and we were treated to perfect views of the entire mountain, beautiful in a new coat of snow. Always a nice way to wind down a trip.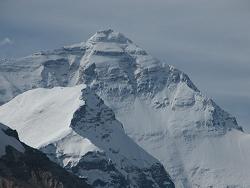 But of course we weren't through - we still had to get to Nepal. Now you may remember that my first trip of the year to Nepal was eventful…gun battles and curfews. Well, this time on the way to our stay at Dhulikhel we were stopped by the Maoists. A drugged up young guy got on the bus and explained to me why we should each contribute 1000 Rupees to their cause. I in turn explained that the Maoists had declared a ceasefire, that they were in talks with the government and other political powers, and that talking didn't require our money. He seemed at a loss for words and left the bus, at which time I figured we were free and could proceed. But we sat. They still wouldn't let the bus go. Had I been on my own I'd have waited them out, but with a group I figured it was simply wasting time so I got off the bus and walked over to make a 'donation'. I figured 1000 Rupees/person was outrageous, so I paid 100 Rupees/person. And the best part, and something that I've actually been waiting years for, was that the Maoists of Nepal issued me a receipt! How funny is that?!? I'll keep that right next to the receipt I got in 2003 stating that I'd entered Western Tibet illegally but had since paid my dues.
The trip finished on July 23rd and I spent 5 days in Kathmandu writing reports, dealing with accounts, eating great food, and most importantly - relaxing. The Tibet trips can be long, so it's always nice to recharge before flying back to Beijing and meeting the next group. Which is where I am now - awaiting the start of my next trip tomorrow night. It will once again be a Tibet trip, so as always I'm happy about that.
And with that you're up to date. I hope all is going well in your part of the world, and I'll catch you from somewhere down the road.