Dates Traveled: November-December 2005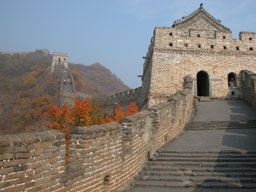 I finished my last trip of the season on October 16th and spent a week simply relaxing in Kathmandu. I then flew to Beijing to sort out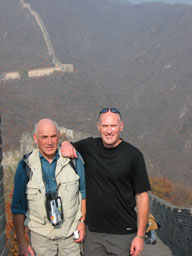 visa issues and prepare for the upcoming trip with my dad and his wife, Laura. They arrived in Beijing the afternoon of November 1st and the adventure began.
The first night we took in the Kung Fu show, which tells the story of a young boy who becomes a monk. The lighting, martial arts, acrobatics, and story are all good, making the show well worth seeing.
The following day we hired a car and driver to take us to the Great Wall at Mutianyu. It was a great day for it - temperatures were cool, there weren't many tourists, and the trees were changing to their fall colors. Very picturesque. The air still wasn't as clear as I'd hope for, but I was still able to get some better photos than I had on previous visits. We spent 4 or 5 hours wandering around - snapping photos, shooting video, and climbing up and down the serpentine wall before opting for the quick descent…toboggan! Always fun. That night we took in an acrobatic show, which I always enjoy. It's no wonder that the Chinese acrobats are heralded as some of the best in the world, as they do some amazing stuff.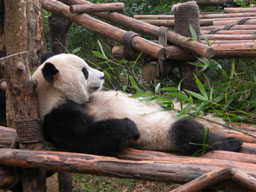 The following morning we met a local guide for a tour through Tiananmen Square and the Forbidden City. Again, not many tourists so it was nice. We followed that up with a bicycle rickshaw ride through some local hutongs. Hutongs are the traditional small alleyways where residents of Beijing go about their daily lives - living, shopping, and gathering. They're quaint areas that are unfortunately falling to the wrecking ball and 'progress', but while they're still around they're well worth exploring. They have a timeless feel to them.
That afternoon we boarded our first train, arriving in Xian 13 hours later. We simply spent the remainder of that day wandering around the Muslim quarter and 'Culture' street, and shopping, before indulging in hot pot for dinner.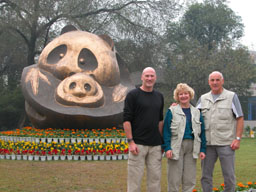 Early the next morning we hooked up with a guide and hopped a local bus for the 1-hour ride out to the Terracotta Warriors. The amount of time and effort that went into constructing the army of warriors is truly amazing.
Back in Xian we climbed up on the city wall and wandered that a bit before descending and exploring some more of the city. That night we attended a tea tasting ceremony at an old home down in the Muslim quarter. I always enjoy my time in Xian, as the area within the old city wall has a nice feel to it. You never realize that it's a city of 7 million people!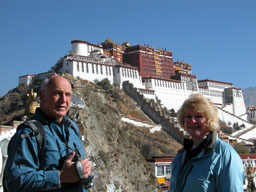 A relaxing morning preceded our second train journey - a 17-hour affair to Chengdu. We arrived there around 6:30 in the morning and went to a guesthouse for breakfast and to kill time. A guide picked us up around 8 and we headed for the Panda Research Center. We walked around the grounds for a few hours watching the pandas - both the greater (the black and white variety you're thinking of) and lesser pandas (or red pandas, which actually look like raccoons). It's always fun to watch the pandas, though I have a hard time convincing myself they're real. Must be the funky black 'eye patches'. The rest of that day was spent relatively close to our hotel - exploring a small pedestrian street, before heading out to a culture show that evening. The show featured balancing acts, opera, playing of an erhu (Chinese 'violin'), puppetry, and a grand finale of 'changing of the masks'. Performers in masks stand facing the audience, make a quick motion, and suddenly they're wearing a different colored mask. Always intriguing.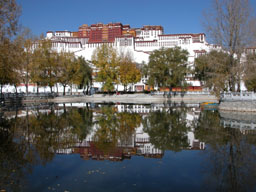 Early the next morning (like 5:30 early!), we were on a bus and headed to the airport for our 2-hour flight into Tibet. We simply caught the bus from the airport into Lhasa and spent the rest of that day walking the Barkhor, eating, relaxing, and easing our bodies into the higher altitude (11,800′/3600m).
The following morning we set out exploring the narrow alleys on our way to Dropenling Handicrafts - a great organization that aids Tibetan artisans. We spent the rest of the day walking the streets - taking it all in, and also went into the Lukhang Park behind the Potala.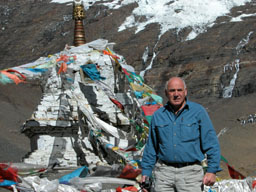 That evening we ventured into the Jokhang Temple to hear the monks perform their evening chants - mesmerizing. We also viewed Tibet's most revered statue - the Jowo, which is a statue of the Present Buddha at the age of 12. We shared the experience with many pilgrims - always more prevalent this time of year. They don't have to tend to their crops or herds during the colder months, so they head to Lhasa on a pilgrimage to see the great monasteries.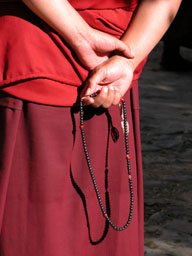 That's one of the reasons I believe the best months to visit Tibet are October and November - the numerous pilgrims in their colorful region's attire, very few tourists, and skies which are cloudless and a dazzling blue.
The next day we caught the local bus for the short trip up to Sera Monastery. At one time Sera was the world's second largest monastery with 6000 monks, though limits imposed today keep that number in the hundreds. We wandered through the various colleges and assembly halls before finding ourselves in the debating courtyard. It's always fun to watch a courtyard full of monks debating Buddhist philosophy - some standing, windmilling their arms theatrically, before clapping their hands together as they ask a question…others sitting, quietly offering their answers. Great entertainment.
The next day we checked out the Potala - the 13-storey winter home of the Dalai Lamas. It's eerie, as one can only visit 20 or so of the 1000 rooms, but those rooms offer a glimpse into what it must have been like in its day. My favorite rooms are those exhibiting 3D representations of mandalas (meditation aids), and the room containing the burial stupa of the Great 5th Dalai Lama. After touring the inside we opted to walk the kora (pilgrimage circuit) around the outside - rubbing elbows with Tibetans from near and far. A walk through the market area was also included.
We next visited Braille Without Borders. I always love being around the young students, as they seem to have such an innocent love of life. It's incredible to see how they develop their confidence the longer they're at the school.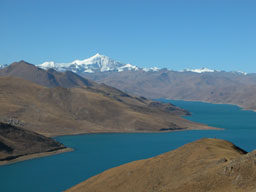 They come to realize that they can function, and even excel, in society, and that even though their blindness is considered a result of bad karma in a previous life, that there are things they can do in this life that are fulfilling.
That evening we were able to meet up with several of my Tibetan friends over dinner, which is always enjoyable.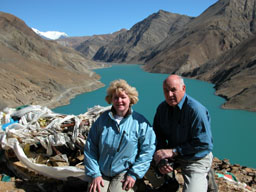 A few more days wandering Lhasa and mingling with the pilgrims was in order before we met Nyima, our driver, and hopped in the Landcruiser for the trip to Gyantse. We took our standard route which went via Yamdrok Tso - one of Tibet's 4 holy lakes. As always, the scenery along that road made the drive seem shorter than the actual 8 hours.
In Gyantse we walked a back street through the old part of town to the monastery complex, which I always enjoy. We also climbed up through the various levels of the kumbum - the stupa with a style unique to Gyantse. Adding to the adventure was the fact that we were locked inside the kumbum for a short time. Never a dull moment.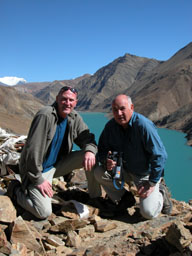 After checking out the monastery complex we walked up a hill to the ruined fort, or dzong, which afforded great views down onto the city and monastic complex.
A short drive, stopping at a water-driven flourmill along the way, and we were in Shigatse. The following morning we headed to Tashilhunpo Monastery, the traditional seat of the Panchen Lama - second only to the Dalai Lama.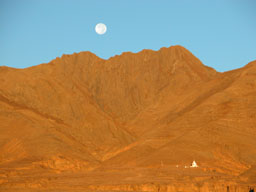 Since most of those visiting the monastery were pilgrims, there were more rooms open than would normally be the case during the tourist season. I enjoyed being able to go back through rooms that I hadn't been in for a few years - and other rooms I'd never been allowed to visit. We followed up the monastery visit with a trip to a factory to watch the women weaving carpets. Next it was time to walk the kora around the monastery - spinning a few prayer wheels as we went, before dropping off the hill and down into the old part of town right at the market - a market that progresses from pool tables, to skinned goats hanging and waiting to become a meal, to countless souvenirs…a little something for everyone.
Next stop - Sakya, higher in altitude…lower in temperature. Highlights of Sakya were witnessing a ceremony at the monastery, and finally being able to enter a protector chapel that had intrigued me for 2 years. There are numerous poorly stuffed wolves and birds-of-prey above the door to the chapel offering protection, but I'd never been around when the door was unlocked…until this time. I enjoyed finally getting my chance to peek inside.
From Sakya we took our standard shortcut that passes through a field of large sand dunes. There's something appealing in a scene that includes a foreground with sand dunes that are partially covered in frost/snow, and a background of snow-capped peaks. That night was spent in basic accommodation - the 3 of us to one room. We entertained ourselves by sitting in the communal eating area and playing a Tibetan game with some of the locals.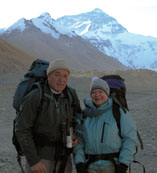 A pre-dawn start in a cold Landcruiser and we were on our way up to Everest basecamp. During the season we're required to leave our Landcruisers and take local transportation up to Rongphu Monastery, from where we have to either walk or hire a horse-cart for the final 8 kms. to basecamp proper. However, at this time of year we could simply drive all the way to basecamp. We arrived just as the first rays of sun were coloring the tip of the peak, and we had the scene to ourselves. Why? Because nobody else was stupid enough to be up there in that cold wind! We stayed for over an hour, as I set out wandering farther afield than is possible during the busy season. We then snapped our pictures, shot our video, acknowledged that we were gazing upon the world's highest point, and then got out of there.
We were able to drive the old shortcut road, one I'd never taken, to Tingri. Rather than stay there for the night as planned we simply ate lunch and carried on towards the border. The highlight of that afternoon's drive was the final 17,000′/5200m pass and the accompanying view, which included the 14th highest peak in the world. Stunning. From the pass we descended to our final stop in Tibet, the border town of Zhangmu, at 7,500′/2300m.
During our drive across Tibet we were able to view 5 of the 14 highest peaks in the world, including Everest. We saw black-necked cranes, blue sheep, and antelope. We witnessed Buddhist ceremonies, opened chapels that are normally closed, and numerous pilgrims in colorful traditional outfits. And all of this was under a canopy of brilliant blue skies. A great leg of the journey.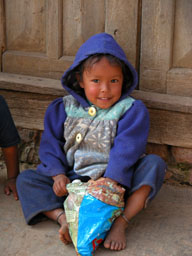 The following morning we crossed the border and said goodbye to Nyima at the Friendship Bridge. After our immigration formalities we jumped in a vehicle for what should have been a 2-1/2 hour drive to Dhulikhel. Wrong. We had to stop while some roadwork was done, which wouldn't have been a big deal. However, a few motorcycles jumped the gun in trying to beat others across the newly-repaired road. What they hadn't realized was that the repairs were ongoing. They ventured too closely behind the caterpillar-tracked tractor and were unable to get their bikes out of the way in time as the machinery backed up. Crunch! We waited another hour until the police could arrive on the scene, which gave us time to see the mangled bikes carried out of the way - followed by a few dejected looking owners.
What did we do when we finally arrived at our destination - High View Resort in Dhulikhel? Relaaaaaaaaxed. We spent 3 nights there recuperating and enjoying the rooftop, the balconies, and the fantastic food. We did manage to pry ourselves away one day for a trip to Panauti via walking and local transport. I always enjoy Panauti, as it's a small little town with a more traditional feel to it.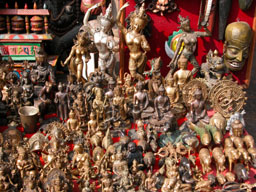 On our way into Kathmandu we stopped at the old capital of Bhaktapur, where we marveled at the pagodas, wandered the streets, and attempted to keep our sanity around the street sellers.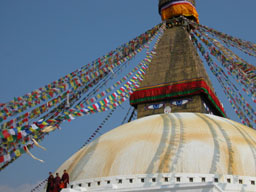 The first full day in Kathmandu saw us visiting many of the major sites in the valley. The first stop was Swayambhunath, which thankfully is more commonly referred to as the monkey temple after its numerous inhabitants. I always like my time there - viewing the white stupa, colorful prayer flags, and eyes of Buddha set against an azure sky. Next stop…Boudha, home to one of the largest stupas in the world and many of the displaced Tibetans. Last, we stopped in at Pashupatinath. Similar to Varanasi in India, the Hindus of Nepal believe in cremation, and Pashupati - along the Bagmati River - is the main venue in the Kathmandu area. We witnessed one woman who couldn't have been dead more than a few hours - her body was still limber as it was carried to the pyre. Her husband and sons made offerings and encircled the pyre 3 times, at which time a priest lit a fire in the woman's mouth, and then proceeded to light a fire under the stack of wood on which she was lying.
The following day we walked down to Kathmandu's Durbar (Palace) Square, where we witnessed the Kumari, or living Goddess. We then caught a cab to Patan's Durbar Square and checked that out. Both areas showcased the detailed woodworking for which the Newari's are known. Evenings were spent eating good food and wandering the streets - while attempting to avoid being run over. We also had quite a bit of free time for shopping or relaxing.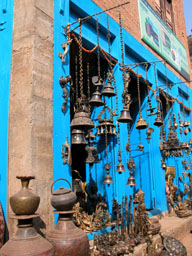 From Kathmandu we hopped a flight to Bangkok, where we ended up staying one block off of Khao San road. That was convenient as we could pop over for our spring roll and chocolate/banana pancake street food fix. As you do.
The first day in Bangkok we walked over to the Royal Palace, which I always enjoy. How can you not with the tall statues, jade Buddha, tiled buildings, and gold stupas and statues. A feast for the eyes.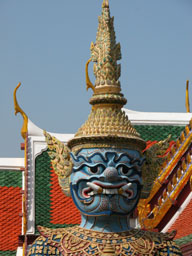 We then walked around the corner to Wat Pho, where we checked in on the enormous reclining Buddha before having our futures read - mine includes one (though possibly two at the same time) wives who are good for me, beautiful, and hot-tempered. I won't have much money between March 2005 and September 2006, and I'll probably marry sometime between September 2006 and December 2007. Between the ages of 57 and 84 I'll lead a good, happy life. So I've got that going for me…
The next morning we headed down to the pier, where we boarded a long-tail boat for a 1-1/2 hour cruise along the canals. It was a relaxing way to catch a more intimate glimpse of Thai life. We followed that up with another mode of transportation. After all, what's a trip to Bangkok without a tuk-tuk ride. And of course it has to be a ride where you whittle the asking price down to almost nothing in exchange for stopping at a tailors, a jewelers, and a souvenir market. Always entertaining. Our last day in Bangkok was a free day for examining everything Khao San had to offer, and for getting one last authentic Thai meal - naturally followed by one more chocolate/banana pancake!
In total we spent a month traveling through China, Tibet, Nepal, and Thailand (Bangkok). We witnessed ancient cultures, great people, and natural beauty. We traveled from the comfortably cool weather of China, to the cold weather of basecamp, to the heat of Bangkok. We went from an officially atheist China, to Tibetan Buddhism, to Nepali Hinduism, to Thai Buddhism - which is considerably different from that in Tibet. We ran the gamut as far as food, accommodations, and toilets were concerned, and were able to use our feet, bicycle rickshaws, private cars, trains, local buses, planes, and tuk-tuks for transport. I was happy to be able to show my dad around this part of the world - to see sites anew through his eyes, and to share with him a bit of what makes me feel so at home in the region - especially in Tibet. It was a great trip.
We flew out of Bangkok on December 1st headed for Denver, where we spent a few days getting caught up with my sisters and partaking in my nephews 3rd birthday party. On the 4th we drove up here to Montana. The first few days here were cold, about -18F/-30C at night, and -7F/-22C during the day, though today it warmed up to a balmy 29F/-2C. Makes me wish I hadn't bad-mouthed the heat of Thailand so much. I'll most likely stay here this winter until the leading season in China/Tibet starts up again next March.
And with that you're up to date. I'll try to get some photos out to the 'Galleries' in the next few days, and I'm working on several more features for the site. Stay tuned…
I hope all is going well in your part of the world, and I hope you have a good holiday season surrounded by family and friends.
Brett