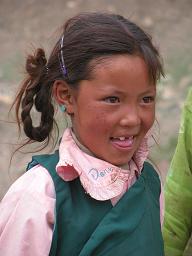 Well, that was certainly an interesting trip - to say the least! I was supposed to have a full group, 12 passengers, but one passenger cancelled before I ever met him as he wasn't able to secure his necessary visas. Down to 11. Then, one minute before my group meeting was to begin I met another passenger. He was on crutches and couldn't bend his leg. We both decided that he couldn't make the trip in that condition. Down to 10. While still in Kunming I was having all sorts of issues trying to get the necessary train tickets for my group, as it's the busy season. Luckily they ended up adding an extra carriage to the train, and so we were able to get those berths. Lucky. There were several other issues along the way, such as the hoops I had to jump through to get refunds on already-purchased flight tickets to Lhasa for my cancelled passengers. However, little did I know that it was just about to get interesting.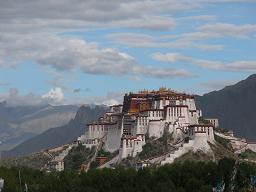 We flew into Lhasa and had a few days seeing the normal sites. Then, on day three, one of my passengers bought a dog - allegedly to save it from being eaten by a Chinese soldier, though I have my doubts. There was no way a dog was coming with us on a 9-day Landcruiser trip across Tibet, and everyone seemed to realize that - including the woman who bought the dog. Therefore, I ended up talking to a local friend of mine who has several dogs, and he agreed to keep the dog. There were many anxious moments as the woman waffled back-and-forth about what she was going to do, but in the end the rest of the group and I 'convinced' her that leaving the dog was in everyone's best interest. Five minutes before we were to leave Lhasa she approached me one last time to understand the repercussions of her staying behind with her dog. I let her know that we were all on the same permit and that she'd be screwing up everyone elses trip if she were to stay. That seemed to be the final bit of convincing she needed, as she stated she didn't want to ruin the trip for others. Wrong!
We set out for Samye Monastery, about a 4-hour drive from Lhasa. We had one brief stop and all seemed well. However, at the next break on top of a pass I was approached by the passengers in the third Landcruiser (I'd been riding in the first) and told that the woman saw a van going the opposite direction, made our driver stop, grabbed her bags, and left the trip…no goodbye, no signing herself off the trip, nothing. So much for not wanting to jeopardize the trip for others! After a few phone calls to people back in Lhasa we continued on our way, though over the next few days everyone in my group perked up when my phone beeped indicating a text message - all were interested in the continuing saga. We finally signed her off the trip and she was free to find different transport that would allow her to take her dog to the border. Down to 9.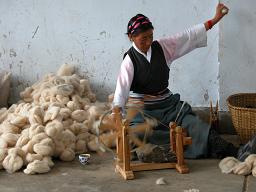 We continued on and made our normal stops at Gyantse (where there was no power in town and we probably had the worst meal imaginable), and then two nights in Shigatse.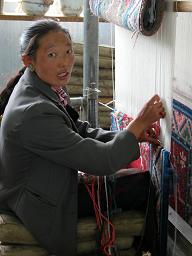 While in Shigatse we did our standard tour of Tashilhunpo Monastery, but we also took the time to go visit the carpet factory. We saw women spinning the wool, and several women in a large room sitting in front of looms weaving the carpets. I'd seen it once before, but it's always amazing to see the smiling faces at work, the efficiency, and the beautiful end results.
While driving from Shigatse to Sakya we looked out and saw a large gathering of people and tents, so we drove over to see what was happening. It turns out that it was a horse festival, and it was fantastic. The horse riders themselves were dressed very colorfully - as were there horses, and those Tibetans in attendance also seemed to have dressed up for the occasion.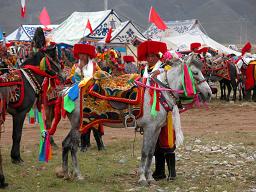 We ended up wandering around the gathering for about 4 hours - taking pictures and soaking up the moment. The riders performed various feats during that time. First, they rode along and hung off their horses as low to the ground as they could. Next it was the archery competition…they'd ride at a gallop and try to gain control over their horse, and their bow and arrow, in time to shoot a small target. Last, it was time to see them ride at a gallop, hang off their horse with their hand on the ground and pick up as many white ceremonial silk scarves (katas) as they could in one run. It was a great stop, very genuine, and the kind of thing that one always hopes to encounter while traveling.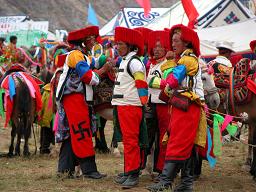 When we finally arrived in Sakya it was too late to see the monastery, but my group set out to explore anyway. There had been a festival in town that day, and so most of them ended up sitting around in tents with the locals drinking and singing until late in the evening. As it turns out that caused me a bit of a headache, but only because they were drinking with many of the doctors and nurses in town. Why was that a problem? Because at midnight I had a passenger approach me with the early symptoms of High Altitude Pulmonary Edema (HAPE). Those of you who know my sordid history will recognize that acronym.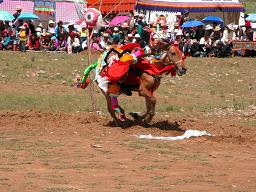 I took him to the hospital, finally tracked down a doctor, and he was examined, put on oxygen, and sent back to his room. I simply sat awake for the next few hours listening to him sleep fitfully. Then, at 4 AM he seemed to get worse. I wasn't overly concerned at midnight, as his health didn't seem too bad, but at 4 AM he was coughing up a lot more blood, and it was time to get the doctors to make a hotel visit. They gave him a shot of dexamethasone, and put him on an antibiotic drip. While all that was going on I was once again jumping through hoops trying to get a vehicle to get him down to Lhasa. Finally, around 9 AM he was on his way to Lhasa and lower altitudes, and the rest of us were on our way to Everest basecamp. Down to 8. It turns out the guy stayed one night in Lhasa and then flew to Kathmandu. Unfortunately, we didn't get a chance to meet up with him in Kathmandu, as he flew out the day we arrived, but he was feeling much better at that point.
Basecamp. Well, it is the rainy season, so the summit was cloud-covered for most of the time we were there. We did get some quick glimpses - mostly of the summit, and it seemed to have a lot more snow on it than last month, but there were no clear views to be had.
From there it was the standard stops in Tingri, Zhangmu, Dhulikhel, and then finishing in Kathmandu.
It was a trip that seemed to present challenges at every turn, but was made easier by the fact that many of my passengers had traveled extensively in the past, so they were able to keep a good sense of humor and roll with the almost-daily punches. We ended up playing a lot of cards, and sho (Tibetan dice game) to pass the time and relax after the daily grind, and to keep us laughing. What else kept us laughing? Reading various menus throughout Tibet. Some of our favorites? Fried dad (assume it should have been fried dahl), and boneless spaghetti. Never a dull moment.
And with that you can stick a fork in this one…it's done. Hope all is going well in your part of the world, and I'll catch you from somewhere down the road. I'm due to fly out of Kathmandu on the 13th, arriving in Beijing on the 14th, and starting a 28-day Tibet trip from there on the 15th. This time I'll see if I can keep my group intact…stay tuned.