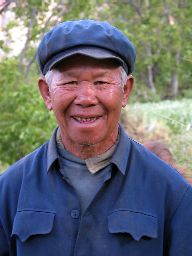 Well, I've got one under my belt, as I finished up my first trip yesterday. Right now I'm in Kunming, gearing up to start my next trip tonight. This one will be a 21-day affair, spend most of the time in Tibet, and finish up in Kathmandu, Nepal. Looking forward to it, as I only have 3 passengers so we'll be able to do a lot of things that aren't possible with a big group.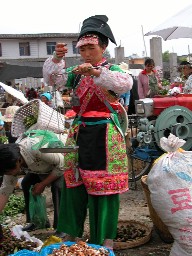 As for the first trip, the 12 passengers and I first met in Kunming on April 25th. After a group meeting and a dinner, we set out the next day by bus for Dali. Dali is touristy - mostly for Chinese tourists, but I still like it quite a bit. There's a lot to do around the area, but we opted for a guided tour one day. I'd taken the tour when I passed through on my own a few years back and really enjoyed it. Passengers seemed to agree this time around. The guide talks about things that aren't obvious, but doesn't overwhelm people with information. In the morning we went to a Bai minority market, and then wandered around the small village looking at homes, and visiting a pig temple. Pigs blessed at that temple actually garner a bit higher prices in the market.
We next drove into the hills on another side of the main lake in the region - Erhai Lake. Lunch in a small Muslim restaurant was first, followed by a visit to a corn whiskey 'factory', and then a visit to a small, peaceful temple. We then took a short hike through the rice terraces to see some small villages of the Yi people - another of the 25 minorities here in Yunnan Province. After a 10-hour day we headed back to Dali to dine on a Tibetan feast. Virtually every dish set on the table contained yak meat - beans with yak, noodles with yak, carrots with yak, yak with yak…you get the picture. People probably received their lifetime supply of yak meat in one sitting.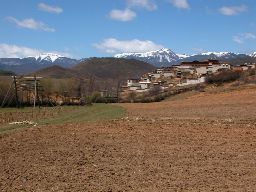 From Dali we took the 8-hour bus north to Zhongdian, which has been deemed Shangrila by the government. It's essentially Tibetan in nature, and cooler at 3200 meters altitude. We spent one day hiking around the area, and visiting the main monastery of the region. Zhongdian is pretty modern, but there are still some fantastic Tibetan enclaves in the old part of town to give you a feel of how things once were in this outpost.
We next headed towards Tiger Leaping Gorge, but first stopped at the limestone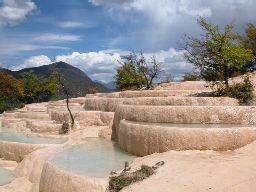 terraces of Baishuitai. The stark contrast of the white terraces, blue pools, and green fields in the valley were beautiful. The terraces are sacred for the Naxi, another of Yunnan's minority groups.
A short ride had us in Haba, where we spent a few nights. As it was the May holiday there were many people around, which provided ample entertainment. Many were making an assault on the highest peak in the region - Haba Mountain.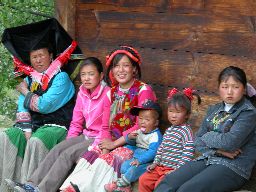 It's not a walk-up by any means, but you'd think it was to see these 'mountaineers'…shiny new packs and tents, jeans, etc. It would have been more comical if the potential disaster didn't loom in the back of your mind. I don't know what they thought they were getting into, but it was as if someone simply said, "Yeah, sounds good. I'll climb that mountain with you. Just let me go buy all the flashy gear and I'll be good to go." Crazy.
One day we took an excellent day hike through the surrounding Muslim and Yi villages. Very basic farming regions, with beautiful mountains in the background. We had lunch in the home of a Yi family. There are 4 different types of Yi - the women of this particular branch wear huge square hats covered in black felt, and colorful clothing. Beautiful. Doing that dayhike and wandering around Haba village were probably the highlight of the trip for me.
The next day we had about a 7 1/2 hour hike to get into the Tiger Leaping Gorge proper. It's pretty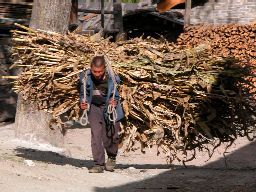 stunning on the north end, as shear cliffs rise a couple thousand meters from the muddy Yangzi River. If only the paved road weren't there! We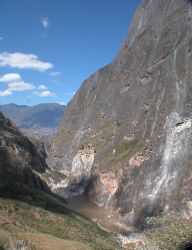 made our way along the road to our guesthouse for the next few nights - Seans. Actually, Sean himself was our guide for about a week during the trip, which gave us a great chance to tap into local knowledge. The food was excellent, and the views stupendous as we sat on his porch and looked across at the looming cliff face. We also had a free day there, which most people used to get down to the river and marvel at the enormous height of the cliff faces.
The next day was a long one - about 9 1/2 hours all told, as we made our way through the rest of the gorge. We spent that night at Naxi Farmers Guesthouse, which is set in a beautiful terraced setting. It was a relaxing place to spend our last night in the gorge.
I probably found the scenery better this time around, than when I did the gorge on my own a few years ago. I think before it had been built up to such a point in my mind that I was disappointed in the real thing. It's still a shame that some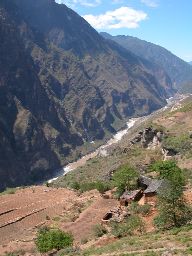 of the hiking involves following along a paved road, but when you do finally get onto a real trail you have the feeling of a proper hike.
From Naxi Farmers we walked an hour through a driving rain (we were all happy it didn't happen the previous two days and spoil or views/experience in the gorge) to Qiaotou, loaded up, and headed the 1 1/2 hours by share taxi to Lijiang.
Lijiang is also a nice place, though always very popular with the Chinese tourists. Luckily the May holiday was winding down, so the place wasn't too crowded. We simply spent a few days taking in the winding alleys, waterways, and nearby parks, before flying back here to Kunming to call it a trip.
As you can see, I've tried to include a few pictures with this entry. Scroll over the picture to see a brief description. Once I get all the pictures sorted I'll try to post some in the 'Galleries' section.
Well, I have a few more things to take care of before meeting my next group, so I better head out.
Hope all is going well in your part of the world, and I'll catch you later.